Pegasis 85RF is an Attack Type Beyblade that was released by Takara Tomy as part of the Beyblade Super Deck Set on November 20, 2010.
Face Bolt - Metal Face Heavy
Metal Face Bolts are Face Bolt featuring some amount of metal components, being used to add and distribute weight in Beyblade customizations. They are mostly used for Defense Types, but can also be used for Attack Types, in order to slow down their quick movement and to prevent recoil. They have little use in Stamina because the added weight slows the Bey's spin velocity. Metal Face Custom Ver., or MF2, are the successors to the original Metal Face Bolts, and were released by Takara Tomy on July 24, 2010. They weigh heavier and are now made up of two components that can be swapped in order to distribute weight.
Each MF2 are made of two parts, a Core and a Plate. The Core is the center that screws the whole Beyblade together while the Plate is the hexagonal-shaped outer top around the Core. They can either come in Metal or Clear plastic versions:
Metal Core: 2.6 grams
Metal Plate: 2.7 grams
Clear Core: 0.7 grams
Clear Plate: 0.5 grams
The different Cores and Plates can be used to make four different combinations of MF2s, which are:
Heavy (MF-H) - Metal Core + Metal Plate = 5.3 grams
Middle (MF-M) - Metal Core + Clear Plate = 3.1 grams
Light (MF-L) - Clear Core + Metal Plate = 3.4 grams
Feather (MF-F) - Clear Core + Clear Plate = 1.2 grams
Wheel - Pegasis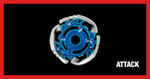 The Pegasis Wheel consists of a three-winged design. Each of the three sections has a flat front that connects the protrusions. The segments slightly curve upwards in the shape of wings, with two pointed ridges near the end. Hoove-like parts can also be observed in the design.
Spin Track - 85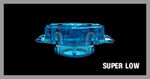 85 is the lowest Spin Track available and thus, the best Spin Track for low attackers due to its Attack and Stamina capabilities. However, 85's low height causes it to scrape the stadium floor when it begins to lose spin. Due to this, some prefer to use 90 over 85. However, if placed with tall Performance Tips, like Rubber Flat (RF), 85 can avoid floor scrapes as much as possible. Although 85 can be countered with Spin Tracks like TH170 and 230, it still remains an excellent Spin Track for Attack Type customizations. However, low-attacker Spin Tracks like 85 and 90 have fallen into disuse with the release of Flame Byxis 230WD and Hades Kerbecs BD145DS, as their Spin Tracks are immune to low attackers.
Performance Tip - Rubber Flat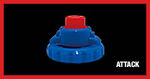 Rubber Flat (RF), as its name implies, has a flat rubber tip, with a small indentation on the base of the tip. Its tip is about the same width as Wide Flat (WF), and is the second highest Performance Tip next to Hole Flat/Spike (HF/S).
By using its wide surface area and rubber material, Rubber Flat has a large amount of traction against the stadium floor, resulting in a fast and powerful attack pattern that often renders itself useless by self-KOing the Beyblade it is being used on. To alleviate this problem it is recommended that RF should be worn down first before any competitive use.
Gallery
Toyline
Takara Tomy
References