Delta Drive (D:D) is of a round shape with a translucent black color and with a height comparable to 145WD. It is an interchangeable 4D Bottom unique to Variares. It can change between three different Performance Tips, which will change how it will perform: "Flat" for Attack, "Wide Ball" for Defense, and "Sharp" for Stamina. Each Tip can simply be changed by pulling the Tip until it lightly clicks, then scrolling to your preferred Tip and pushing it back in place. These Tips sometimes wobble during battle and thus, reduces Stamina. The S Tip has bad stability and balance due to D:D's height, which therefore does not have many uses, while F does not do better; its low grip, and small diameter makes it relatively useless. While Wide Ball of D:D looks like a completely different mold of WB, it performs relatively the same as its predecessor. Overall, D:D is a mediocre 4D Bottom due to its Tips; Sharp, Flat, and Wide Ball all being outclassed by Tips such as Bearing Drive, Right Rubber Flat, and Rubber Spike, respectively. However, D:D's performance can be boosted when paired with Variares' Wheel. In WB mode, it can hold its ground against Attack-Types while knocking the opposing beys out of the stadium, while in F mode, it increases Variares' attack ability and supporting its powerful smash attack. In S mode, it is useful facing Stamina Beys such as Burn Fireblaze since Variares can touch it and and knock it out with its attack power. Sadly, Phantom Orion B:D is rarely defeated by the S mode due to the bey not slamming into him. The attack is the strongest feature in D:D.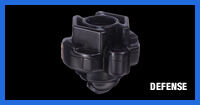 Community content is available under
CC-BY-SA
unless otherwise noted.