Face: Serpent
The Face depicts Serpens, the Serpent, one of the 88 constellations in space.
Clear Wheel: Serpent
Main article: Energy Ring - Serpent

This Clear Wheel's rather angular design features eight serpents overlapping and interlocking with each other in a pattern reminiscent of a Celtic knot. Its original release is deep green.
Metal Wheel: Poison
Main article: Fusion Wheel - Poison

| | | | | | | | | | | | |
| --- | --- | --- | --- | --- | --- | --- | --- | --- | --- | --- | --- |
| Weight: | 29.8 grams | Full Width: | 46 mm | Full Height: | 9 mm | Circumference Height: | 5.3 mm | Protrusion Distance: | 4 mm | Protrusion Width: | 8 mm |
Poison has fifteen rectangular protrusions on its circumference, each the same size and about 4 mm apart at the widest point. While this is not wide enough to provide useful Smash Attack, it still produces relatively large amounts of Recoil, making this part useless for Defense or Stamina. Furthermore, similar to Flame, the Metal Wheel is raised at the base, exposing the Track to opposing Beys, making it even less useful for Defense purposes. This Recoil is worsened by the light weight of the Wheel, which allows it to be easily knocked around and KO'ed by opposing Beys. This means it has little to no use for Attack either. Due to these factors, Poison has absolutely no competitive use.
Track: Switch 145
Main article: Spin Tack - SW145
Spin Tack - SW145
Bottom: Semi-Defense
Main article: Performance Tip - Semi Defense

SD is the reason to buy this Beyblade. Just as the Semi-Flat Bottom has a sharper tip than Flat, so too does Semi-Defense when compared to Defense. Before the release of SD, D was the absolute best Stamina Bottom available, but SD quickly took over the top spot, as is evidenced by the following tests:
---
Virgo DF145D vs. Virgo DF145SD
Alternating Shots
Beylauncher
20 Battles
Results:
Virgo DF145SD: 18 wins
Virgo DF145D: 2 wins
SD win percentage: 90%
---
SD is not able to wobble as much as D, so for defensive purposes, D should still be chosen over SD if you are trying to add some Stamina to your Defense custom. That being said, WD would be a better choice than D for that situation, and also arguably for Stamina as well because with the even wider tip. With it, it is allowed to circle the stadium in some situations when it is on a larger angle towards the end of a battle, thus outspinning D or SD based opponents. However, sometimes this does not happen, and SD easily knocks over the wobbling WD custom before it topples over itself.
It really comes down to personal preference when deciding whether to use SD or WD because they are so closely matched. For pure Stamina, it is impossible to tell which would win a given match, but WD would prepare you for more situations by being able to take hits better than SD. Test both and decide for yourself which one works best for what you are trying to do.
Use in Stamina Customization
SD is an excellent stamina bottom, and its effectiveness can be utilized in the custom Duo Cygnus W145SD.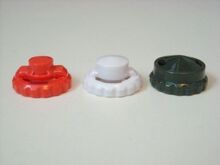 Other Versions
Burn Serpent WA130ES - Random Booster Vol.5 Grand Ketos (Light Red)
Storm Serpent T125HF - Random Booster Vol.5 Grand Ketos (Deep Purple)
Ray Serpent M145MS - Faceoff: Shadow Strike Standoff (Opaque Lime Green)
Flame Serpent SW145F - Hasbro (Pink)
Poison Serpent SW145SD - Hasbro Sonic Series (Lime Green)
Poison Serpent - WBBA prize (clear grey Clear Wheel and black Face with a gold WBBA logo)
Serpent Clear Wheel - WBBA Exclusive Color Ver., Grade 4 3rd-place prize (Fluo Purple)
Gallery
Overall
The only real reason to buy this is SD, which can be obtained from the more useful Dark Bull H145SD. While SW145 has some use, there are generally better alternatives. There is little or no reason to buy this Beyblade, aside from collection purposes.