Doctor Strange in The Multiverse o Madness - The Loop
Play Sound
Quetzalcoatl 90WF is an Attack Type Beyblade that appears in the Metal Fight Beyblade manga. It was released by Takara Tomy as a prize for beating the Bey Ta 1 machine or by trading in five sub-license cards to the WBBA up until August 2009. A recolor was later released on March 26, 2009 with the Metal Fight Beyblade DS video game.
It later received a successor in the 4D System: Death Quetzalcoatl 125RDF.
Face Bolt - Quetzalcoatl
The Face Bolt depicts "Quetzalcoatl", a deity in Aztec culture whose name means "feathered serpent". Several variants of this Face Bolt exist: the original release features a side profile of Quetzalcoatl with an open mouth and the stylized letters "Q" and "C" below it. The second variant released with the Metal Fight Beyblade video game, and featured a front profile rather than a side profile. Lastly, the variant released with Death Quetzalcoatl 125RDF added a background with Mesoamerican script.
Wheel - Quetzalcoatl
Quetzalcoatl consists of two large wings which have a long slope upwards towards the top and then small curved slope downwards at the wings peak, along with two smaller protrusions on a slight incline in the gap between the wings. At first glance, the wings of Quetzalcoatl would appear to display both Upper Attack and also some slight Force Smash. Upon closer examination, however, it becomes clear that it displays neither of these traits in battle. In addition, the two protrusions between the wings do not protrude far enough to come into regular contact, and the Wheel itself is quite rounded, leaving it with only two major contact points and relatively moderate Smash Attack, when compared to Wheels such as Vulcan and Lightning that have since been released.
Quetzalcoatl was once considered the best Attack Wheel available, but has since been outclassed by Wheels such as the ones listed above.
Spin Track - 90
90 was the lowest Spin Track available until the release of 85. Its low height is good for both low height Attack customizations and low height Stamina customizations, but is outclassed slightly in both regards by the aforementioned 85.
Performance Tip - Wide Flat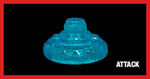 Wide Flat (WF) is a wider variant of the Flat Performance Tip, and is twice the size of Flat. While Wide Flat is much faster due to the increased surface area, it has very poor grip and thus struggles to hold a flower-like pattern. It has since been outclassed in terms of width by Extreme Flat (XF).
Other Versions
Recolors
Quetzalcoatl 90WF - Silver prototype version that was never released
Quetzalcoatl 90WF - Gold recolor available with the Metal Fight Beyblade DS video game
Gallery
Toyline
Takara Tomy
Trivia
During the design stage, Quetzalcoatl was originally intended to be a Metal System "Cancer" Beyblade.
References