Raging Shredder Zurafa

Release Date(s)

Product Details

Product Code:
W-18
Type:
Speed
Spirit Axle:
Zurafa
Spirit Shield:
Zurafa
Energy Core:
Raging
Attack Gear:
Shredder

Anime

Owner:
TBA
First anime appearance:
TBA

Raging Shredder Zurafa is a Speed-Type BeyWheel that can be obtained in the Lance Storm 2-Pack.
Spirit Axle: Zurafa
The Spirit Axle on Raging Shredder Zurafa bears a close Ressamblence to the one on Shadow Fortune Zurafa. The only difference is that the colors are different.  The symbol is red while the background is goldish/yellow.
Spirit Shield: Zurafa
The spirit shield of Raging Shredder Zurafa is similar to Shadow Fortune Zurafa's but w/ different colors.  It is a bronze color w/ gold on it as well.  It can do some damage in battle but it being so close to the energy core it doesn't have much effect unless someone loosens up the attack gear amakes it further away from the energy core. But in doing this the chances of your bey falling apart during battle increases.
Energy Core: Raging
The same Energy Core used for Raging Molten Fireblaze, raging is a speed type energy core w/ little attack damage.  On the sides there are flames symbolizing the phoenix. There are little grooves that can do damage. Put the grooves/points backwards ,that is barage mode, doing a more amount of damage.  But put the grooves/points foward, that is called standard form, doing a egular amount of damage. Putting this bey in barrage mode inceases its attack and it becomes more powerful, but it has less grip on the track.  Put it in standard form and it has more grip on the track but less attack power.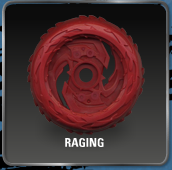 Attack Gear: Shredder
Gallery
Community content is available under
CC-BY-SA
unless otherwise noted.