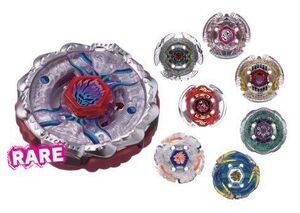 Random Booster Vol. 9 Fusion Hades is the ninth Random Booster that was released on December 28, 2011 in Japan. The Prize Beyblade is the Balance-type Fusion Hades AD145SWD and its product number is BB-123. Being a Random Booster, there is an 1/8 given chance (approximately 12.5%) to obtain any specific Beyblade.
Beyblades
Gallery
Trivia
Surprisingly, this Random Booster contains Legend Series Fusion Wheels created by Hasbro; Torch and Midnight. Takara Tomy renamed Torch and Midnight into Cloud and Crash, respectively..
This is the first Random Booster to contain L-Drago variants.
This is the third Random Booster that has more than one Bey that appears in the anime. The first being Random Booster Vol. 5 Grand Ketos and second being Random Booster Vol. 8 Jade Jupiter.
All Meteo L-Drago variants have L-Drago Destroy's Face Bolt, rather than Meteo L-Drago's.
Fusion Darkhelm AD145SWD and Bakushin Beelzeb T125XF are featured in the anime.
Some parts are paired in some beys, like Cloud and SF, or Bakushin and XF.
Random Booster Vol. 9 Fusion Hades contents

Prize Beyblade
Other
Community content is available under
CC-BY-SA
unless otherwise noted.