Ray Gasher 135SF is a Balance-Type bey owned by Selen Garcia in Beyblade: Metal Masters.
Face Bolt: Gasher/Cancer
The facebolt depicts Cancer, the fourth astrological sign in the zodiac. Its zodiac symbol is the Crab.

Energy Ring: Gasher/Cancer
The Gasher Energy Ring is a completely circular Energy Ring. It appears to show many Crab claws with 2 circles in the middle. Since it´s one of the heaviest Energy Rings, it is good for Defense and Stamina combos.
Customizations
MF-H Duo Cancer/Gasher BD145CS
MF-H Duo Cancer/Gasher 230MB

Attack: 3 - Defense: 3 - Stamina: 1
Fusion Wheel: Ray
Ray has a three-winged design like the Storm wheel in which, each wing has 2 square-like indents. Ray has some considerable Smash Attack attributes largely shown at high spin velocities. It is still outclassed by other Fusion Wheels such as Lightning, Beat, and Variares. It does have some recoil but this can be stopped by using a Metal Face Bolt or a Rubber Flat. Overall, Ray is a decent Fusion Wheel and is silver in color.
Attack: 4 - Defense: 1 - Stamina: 2
Spin Track: 135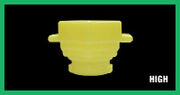 135 was orginally released officially with Burn Fireblaze. It is a viable Track for Stamina, although outclassed. It does have some use in Balance customizations because of its unique height.
Attack: 0 - Defense: 0 - Stamina: 1
Peformance Tip: Semi-Flat (SF)
SF is wider than Sharp but not as wide as any Flat Bottom. It produces a movement pattern that, while agressive, is much slower than any Flat Bottom. The increased friction with the stadium floor both increases Defense and Stamina in comparison to a Bottom similar to S or ES. However, it is in absolutely no competition with Bottoms like WD for Endurance and RS for Defense. SF is meant to be used in Balance-Type Beyblade, because it combine Attack, Defense, and Stamina. However, it has very little use as it is slow. Even though, it makes a good destabilizer in the combo: Flame Gasher 85/90/100/105SF. It can also be used in some descent smash attack combos such as: Ray Gasher/Cancer 90/100SF
Attack: 3 - Defense: 2 - Stamina: 2
Trivia
This is the second beyblade to have the 135 Spin Track and appear in the Anime, the first was Burn Fireblaze 135MS.
Neither Hasbro or Takara Tomy will release this beyblade.
Community content is available under
CC-BY-SA
unless otherwise noted.