This is an article about the Manga Character. For the anime counterpart of the same name, see here.

Reiji Mizuchi (水地零士, Mizuchi Reiji) is a character in the Metal Fight Beyblade Manga.
He was the second most powerful member of the Dark Nebula, second to only Ryuuga who was rallied to combat the opposite of L-Drago, Pegasus, but failed. Afterwards he remained with Tsubasa, Yu and the remains of their reformed organization to support Ginga.
Physical Appearance
Reiji is a slim, bony boy with distinct facial features like that of a snake. He has sharp edged eyes and a long mouth with his tongue usually out. He has orange hair of medium height that drapes down as bangs over his eyes. He wears a large open collar shirt with a large band across his chest. He wears tight jeans with a boot cut shin that drape over his shoes.
Personality
Reiji is a sadistic silent type who only talks in the midst of battle. He wishes to battle strong opponents to prove his worth in battle and utterly dominate his opponents. He also has no taste for weaklings, even if they are allied he will dispose of them without question. He is also very loyal to the likes of Ryuuga, giving up a battle with Sora on his command.
History
Reiji was raised within the Dark Nebula alongside Ryuuga and Doji and was finally put into battle during the Battle Bladers tournament initiated by Doji himself. It was Reiji's mission to aid Ryuuga in the destruction of Pegasus.
Plot
Battle Bladers
In Reiji's first battle, his mysterious opponent, Phoenix decided to forfeit before battling, giving Reiji an easy win.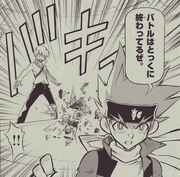 In Reiji's next match he would be partnered with Ryuuga to battle Dark Nebula member; Tobio and the second Pegasus owner, Sora Akatsuki. Although Tobio was eager to aid the two, Ryuuga and Reiji decided to dispose of Tobio by destroying his beyblade.
Afterwards Reiji rushed to battle Sora but was cut off by Ryuuga who wished to battle, Reiji allowed it and Ryuuga was sucessful in defeating him.
In the semi finals; Reiji, Ryuuga, Kyouya and Ginga were the final four. While Ryuuga would face Kyouya, Reiji had his chance to take down Pegasis by defeating its owner Ginga. After Ryuuga defeated Kyouya with loads of trouble, Ginga was enraged and destroyed Reiji's Serpent with ease allowing the two to move on to the final round.
Beyblades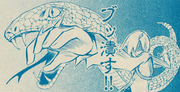 Poison Serpent SW145SD: Reiji's Beyblade. Serpent is a powerful balance type beyblade with great speed and power. It slowly takes down its opponent with quick and powerful strikes then finishes it with a strong blow to crush them completley.
Beybattles
Appearances
Gallery
Community content is available under
CC-BY-SA
unless otherwise noted.