Rock Capricorn T125D is a Defense-Type Beyblade obtainable in Random Booster Vol. 4 Mirage Virgo.
Face Bolt: Capricorn 
The face on this Beyblade depicts a Goat with the word "Capricorn" under neath it, which is represented by the constellation Capricornus, one of the twelve zodiac signs/88 constellations.
Energy Ring: Capricorn
The Energy Ring is pearly white in colour. On the two sides of the Energy Ring are heads of a goat. On some sides of the Energy Ring, there are jagged spikes. Those spikes are good for upper attacks.
Attack: 4 - Defense: 2 - Stamina: 1
Fusion Wheel: Rock
Rock has six large protrusions with small, shallow gaps between each one. It also overhangs the Track much like the original Leone Fusion Wheel, although to a smaller extent. Rock is currently the third heaviest Hybrid Wheel System Wheel to date. However, as a Defense-Type, it is unable to match the qualities of Fusion Wheels such as Earth and burn, because the shape of Rock produces a significant amount of recoil upon contact with another Wheel. As a result, Rock is an outclassed Defense Wheel, but a good Attack Wheel when paired with recoil-reducing parts such as a Metal Face or the tips RF, R2F, and LRF. Prior to Metal Masters, it was the only designated defense type wheel.
Attack: 1 - Defense: 4 - Stamina: 2
Spin Track: Tornado 125 (T125)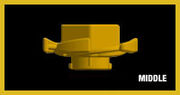 T125 has four upward-facing protrusions spaced apart widely. The track is designed to work in a similar way to DF145, although the effect it produces is negligible. The performance of this track is similar to D125. It is used in some Stamina,Balance and Attack customizations because of its mid-height.
Performance Tip: Defense (D)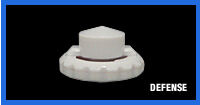 This is a Defense Bottom, which acts as a wider version of a Sharp Tip. When hit by an opponent, a Beyblade with this Bottom will have lessened recoil and will recover from attacks more efficiently than a Sharp Tip. However, while recovering, the Defense Bottom will cause the Beyblade to lose some Stamina, caused by the added friction. However it is easier to knock over than WD and EWD.
Attack: 1 - Defense: 4 - Stamina: 2