Rock Crow 125B is a Defense Type Beyblade that only appears in the Beyblade: Metal Masters anime.
Face Bolt: Crow
Yellow background with what looks like a side profile black silhoutte of a flying crow/raven and feathers. Has "Raven" writin in yellow.
Energy Ring: Wolf
The edges of the Clear Wheel consists of 4 wolves, one in each quarter of the energy ring, representing the body form of a wolf. This increases the stamina of the Bey. It also increases the bey's Stability. It has equal levels of stamina, defense and attack.
Fusion Wheel: Rock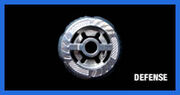 Rock has six large protrusions with small, shallow gaps between each one. It also overhangs the Track much like the original Leone Fusion Wheel, although to a smaller extent. Rock is currently the third heaviest Hybrid Wheel System Wheel to date.
However, as a Defense-Type, it is unable to match the qualities of Fusion Wheels such as Earth and Virgo, because the shape of Rock produces a significant amount of recoil upon contact with another Wheel. As a result, Rock is an outclassed Defense Wheel, but a good Attack Wheel when paired with recoil-reducing parts such as a Metal Face or the tips RF and R2F. Rock also gets loose when used too much. Rock seems to be one of the most commonly used fusion wheels for defense types.
Spin Track: 125
The 125 Track is a midway between the 105 and the 145 Tracks. Utilized in mid-height stamina combos, it is more difficult to destabilize compared to 145 height stamina combos. It has declined in popularity as the choice mid-height track due to the release of T125 and D125.
Performance Tip: Ball (B)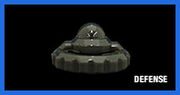 Ball Tip keeps its grip top steady. When being hit, it maintains its strong grip on the floor and does not slip out of the stadium. However, it is now outclassed by WB (Wide Ball) for its Defense but not its Stamina.
Trivia
It is most likely that this bey is named after Corvus (Crow), a small constellation in the southern hemisphere.
Gallery