Rock Gasher DF145WB is a Defense Type Beyblade that was released alongside Storm Capricorn M145Q in the Lightning Screwdriver 2-Pack.
Face Bolt - Gasher
The Face Bolt depicts "Cancer", the fourth astrological sign in the Zodiac. Cancer is one of the 88 constellations in space, and is depicted as a crab. The word "cancer" is displayed above the crab motif.
Cancer was renamed to "Gasher" by Hasbro for its releases. Accordingly, the word "cancer" was removed from the design, and the crab motif enlarged. Several spheres were also added to the background.
Energy Ring - Gasher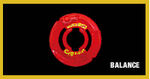 Gasher (or Cancer) is a round Energy Ring with a design representing crab claws. The slopes of the Energy Ring, and its heavy weight, give Gasher use in Defense Type combinations.
Fusion Wheel - Rock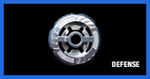 Rock has six large protrusions with small, shallow gaps between each one. It also overhangs the Spin Track much like the original Leone Metal Wheel, although to a smaller extent. Rock is outclassed by later releases, with its weight being unable to compete with most Fusion Wheels, and its rounded shape being too passive to be any real threat in Attack combinations.
Spin Track - Down Force 145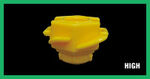 Down Force 145 (DF145) has four upward facing wings protruding from the top of the Spin Track, which aside from giving it extra weight are meant to push air downwards. It is outclassed for use in Stamina combinations. Instead, Spin Tracks such as AD145 and 145 are used.
Performance Tip - Wide Ball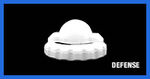 Wide Ball (WB), as the name implies, is simply Ball with a larger surface. As a result, Wide Ball outclasses Ball in terms of defense. The greater surface area creates more movement compared to Ball. This is disadvantageous against Attack Type combinations, as it increases the chance of a knockout.