Rock Leone 145WB is an Defense-type Beyblade that appears in the Beyblade: Metal Fusion anime. It is owned by Kyoya Tategami. Its evolved form is Fang Leone 130W2D.
Face Bolt: Leone
The Face on this Beyblade depicts Leo, one of the 88 constellation in space, and the fifth astrological sign in the zodiac. Leo is the Lion.
Energy Ring: Leone
Main article: Energy Ring - Leone

The regular release of Leone is a translucent, blue-green piece. Leone is circular with small ridge details. Even with its circular shape, this Clear Wheel is too light and its weight is not distributed as well as other, top-tier Energy Rings like Cancer/Gasher, Aquario, Bull, etc.
Attack: 1 - Defense: 4 - Stamina: 2
Fusion Wheel: Rock
Main article: Fusion Wheel - Rock

Weight: 31.4 grams
Rock has six large protrusions with small, shallow gaps between each one. It also overhangs the Track much like the original Leone Wheel, although to a smaller extent. Rock is outclassed in every possible way however, even if it had minimal potential in Smash Attack at a certain era. Its Recoil is too important, its weight is unable to compete with most Fusion Wheels, and its rounded shape is too passive to be any real threat in Attack.
IMPORTANT: Mold Variation
Rock has 3 different molds: 0 cylinders (31.4 grams), 3 cylinders (32.6 grams), and 6 cylinders (32.7 grams). The 0 Cylinder Mold is only available from TAKARA-TOMY products, while the 3 and 6 Cylinder Molds are available from both Takara Tomy and Hasbro products. Rock suffers from recoil, but the best way to tame this is to use a Mold with more Cylinders, as more Cylinders result in less Recoil. The 6 Cylinder Mold has the most Stamina of the three, due to the weight of the Cylinders carrying the momentum around the outside of the wheel. It is also superior to the other Molds, in terms of attack and defense.
Attack: 1 - Defense: 4 - Stamina: 2
Spin Track: 145
Main article: Spin Track - 145

145, along with its variants (C145, DF145, etc.), was once the highest Spin Track available, until the 230 Spin Track was released with Flame Byxis 230WD. It can be used in Stamina customs to great effect due to its tall height, which allows for more wobbling as the Beyblade loses its spin velocity. However, gimmick-paired Tracks such as BD145 have immensely outclassed their original bare variant, as have several taller gimmick Spin Tracks, against heavy, mid-height Attack customisations. Even in Stamina battles, 145 does not offer enough balance: Spin Tracks such as AD145 and WD145 provide a good center of gravity, and aid with a slight downforce to maintain stability.
Attack: 0 - Defense: 0 - Stamina: 2
Performance Tip: Wide Ball (WB)
Main article: Performance Tip - Wide Ball

| | | | | | | | |
| --- | --- | --- | --- | --- | --- | --- | --- |
| Weight: | 0.7 gram | Full Width: | 15.73 mm | Tip Width: | 8.95 mm | Full Height: | 9.05 mm |
WB is essentially B, with a larger spherical surface, hence "wide". As a result, it is seen as an improvement over B in terms of Defensive qualities. This is because of the greater surface area in contact with the Stadium floor at any one time. However, because of this wider contact area, the Bottom also causes more movement compared to B. This is disadvantageous when facing an Attack type, because the Defense customization is closer to the Stadium exits, hence increasing the likelihood of a KO. To prevent this, many launch WB-based customizations at about 60-70% power, meaning that the Beyblade itself stays in the centre, while retaining the defensive qualities of WB. Although WB was the preferred choice for Defense customizations for a long time, it has since then been outclassed by CS, RSF, and RS.
Use in Defense Customization
WB was once one of the preferred choices of Bottom for Defense customizations, however, it has been outclassed in performance by RS in the top-tier customization MSF-H Reviser Genbull E230WB.
Attack: 1 - Defense: 5 - Stamina: 1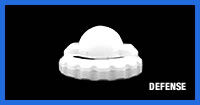 Other Versions
Gallery
Overall
Rock Leone 145WB is comprised of predominantly outclassed parts, except for 145, which is accessible in many other beyblades with better parts such as "Earth Eagle 145WD". This Beyblade is now thoroughly outclassed, and should only be bought for collection purposes.
Trivia
This is the first Beyblade to have the Rock Fusion Wheel.
Rock Leone 145WB is the first Defense Type Beyblade released.
Rock Leone is the first Beyblade with the WB Performance Tip, the second being Rock Zurafa R145WB.
In the Indonesian dub version of the anime (excluding the movie) Rock Leone was renamed to Rock Leona due to localization. This name was used until Episode 1 of Metal Fight Beyblade 4D.
Community content is available under
CC-BY-SA
unless otherwise noted.