Rock Orso ED145D is a Defense-Typed Beyblade released by Takara Tomy that is included in Beyblade Deck Entry Set.
Face Bolt: Orso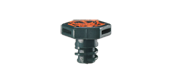 Rock Orso's face bolt depicts Ursa Major, one of the 88 constellations in space. Ursa is Latin for bear. The face depicts an angry and deadly bear. The color pattern shows a negative affect how the background is black and bear picture is orange.
Energy Ring: Orso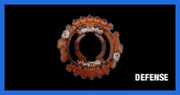 The Orso Energy Ring is translucent blue dark with two apparent 'bear claws' on either side that helps with weight distribution. It acts similarly to the Bull Clear Wheel, but lighter. The recolor comes with the claws colored gold. It also comes in a transparent light blue color. It resembles the Leone energy ring.
Spin Track: Eternal Defense 145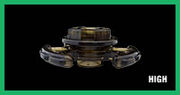 ED145 features three "wings" which rotate around the Track freely. The wings are similar to that of WD145. Because of their free-spinning nature, they can be used in Defense customizations, however, the defensive capabilities of this part are not as effective as C145, as it does not absorb hits as successfully. The wings which rotate are hindered without the mechanism of a bearing, hence creating a force of friction between the and the body of the Track, in turn resulting in less significant damage absorption. Furthermore, it is easy for the low attacker's Wheel to be caught between the Wheel and ED145, hence causing a lot of recoil and spin reduction to the Defense customization. The free-spinning piece may be removed and interchanged with WA130, creating ED130 and WA145, but this is illegal and not allowed in tournaments. Also you can put Rock Bison Weight Disk on ED145 but is not allowed in tournaments because it is known as an illegal custom.
Performance Tip: Defense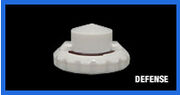 When hit by an opponent, a Beyblade with this Performance Tip/Bottom will have lessened recoil and will recover from attacks more efficiently than a Sharp Tip. However, while recovering, the Defense Performance Tip/Bottom will cause the Beyblade to lose some Stamina, caused by the added friction. WD has better stamina than D, the friction that added when it brakes make it has little stamina than WD.
Gallery : Rock Orso ED145D
Community content is available under
CC-BY-SA
unless otherwise noted.