Rock Wolf H145B is a Defense-type Beyblade only found in Random Booster Vol. 3 Stardust Pegasis.
Face Bolt: Wolf

The face on this Beyblade depicts Lupus, one of the 88 constellations.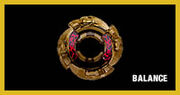 Energy Ring: Wolf
The original release of Wolf is a brown, translucent plastic wheel. The edges of the Energy Ring consists of 4 wolf 'heads', one in each quarter of the clear wheel, representing the body form of a Wolf. This Wolf Ring is a translucent yellow.
Customization: Kreis Wolf 230WD (Defense)
Attack: 3 - Defense: 2 - Stamina: 2
Fusion Wheel: Rock
Rock has six large protrusions with small, shallow gaps between each one. It also overhangs the Track much like the original Leone Metal Wheel, although to a smaller extent.
Rock as a Defense-Type is unable to match the qualities of Fusion Wheels such as Earth and Basalt, because the shape of Rock produces a significant amount of recoil upon contact with another Wheel. As a result, Rock is an outclassed Defense Wheel. Its slightly better upgrade is Counter.
Attack: 1 - Defense: 4 - Stamina: 2
Spin Track: Horn 145 (H145)
Weight: 4 grams
Height: 14.5 millimeters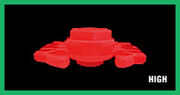 This shows the original mold of H145, but it showed breakage problems, so the gaps were reinforced. It can be used in Attack and Defense combos, however it is outclassed in both due to recoil, and also floor scrapes.
Attack: 3 - Defense: 3 - Stamina: 2
Performance Tip: Ball (B)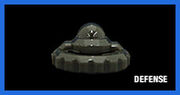 The Bottom Ball's tip is, as its name suggests, shaped like a ball. This hemispherical shape provides a large area for the Bottom to make contact with the Stadium floor; hence increasing friction and making it more difficult to knockout. B's shape also makes it likely to stay in the central areas of the Stadium, hence maximizing the customization's distance from the Stadium exits. B is therefore suitable for defensive purposes, although has been outclassed with the release of WB. One advantage it holds over Wide Ball is that it has more Stamina, and does not require a weakened launch; B can be used if WB is not available.
Attack: 0 - Defense: 4 - Stamina: 3
Community content is available under
CC-BY-SA
unless otherwise noted.