Cobra Kai Season 4 - The Loop
Play Sound
Rock Zurafa R145WB or Rock Giraffe R145WB is a Defense Type Beyblade that appears in the anime and manga series Beyblade: Metal Masters. It is owned by Dashan Wang. It was released as a Booster on May 22, 2010 in Japan, and in western countries as a Starter Pack in 2011.
Face Bolt - Zurafa

The Face Bolt depicts Camelopardalis, one of the 88 constellations in space. The design is a yellow-green Qilin with 'GIRAFFE' written across. It is known that Qilin is Chinese, and so is Dashan Wang and Wang Hu Zhong.
Energy Ring - Zurafa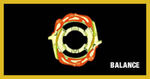 Zurafa is an Energy Ring with a bright orange opaque flame design on a translucent yellow background. It resembles the red and yellow Virgo ring recolor in shape. The flames on the ring look like Lighting L-Drago's energy ring flames.
Fusion Wheel - Rock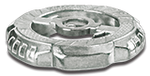 Main article: Fusion Wheel - Rock

Rock has six large protrusions with small, shallow gaps between each one. It also overhangs the Spin Track much like the original Leone Metal Wheel, although to a smaller extent. Rock is outclassed by later releases, with its weight being unable to compete with most Fusion Wheels, and its rounded shape being too passive to be any real threat in Attack combinations.
Spin Track - Rubber 145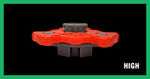 Rubber 145 is the third heaviest of all the Spin Tracks available. It is made of a very firm Rubber and is both a viable Track for Attack and Defense Customizations. Its main purpose is to absorb hits from low attackers without moving much, though it hardly happens with most beys. It is shaped similar to Wide Defense 145 but with the plastic "wings" made of rubber and are more evenly spread out. Due to the gap of the wings, this makes some recoil. The wide shape and the Track's small placement makes it scrape the Stadium floor and thus making it lose Stamina. Despite its main use, Claw 145 outclasses it, but Rubber 145's heavy weight gives it advantage against tall Smash Attackers. R145 can be used for attack custom because its smash and increasing weight helps it attack better with the combo MF Gravity Perseus R145R2F/RF.
Performance Tip - Wide Ball
Main article: Performance Tip - Wide Ball

Wide Ball (WB), as the name implies, is simply Ball with a larger surface. As a result, Wide Ball outclasses Ball in terms of defense. The greater surface area creates more movement compared to Ball. This is disadvantageous against Attack Type combinations, as it increases the chance of a knockout.
Gallery
Trivia
Because the Face Bolt depicts the qilin, a mythical creature that is associated with the real-life giraffe, there is a constellation is space based on a giraffe. It is "Camelopardalis", one of the 88 constellations in space. Camelopardalis is the romanisation of the Greek word, "καμηλοπάρδαλις" meaning "giraffe".
"Zurafa", is Arabic for giraffe.
Hasbro's R145 has softer rubber than that of Takara Tomy's