Ronin Dragoon SA165WSF is a Sky Element Attack Type Beyblade released by Hasbro as part of the Synchrome System. It was released in western countries in the Beyblade: Shogun Steel Griffin Dragoon Air Synchrome 2-Pack for USD$15.99 in the United States.
Shogun Face Bolt - Dragoon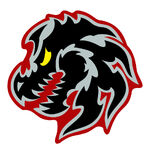 The Shogun Face Bolt depicts a European dragon, facing towards the left. The design of Dragoon is somewhat unusual, as the dragon's head is depicted with a short snout, similar to a dinosaur.
As with all Shogun Face Bolts, the Hasbro release of Dragoon is cross-shaped rather than the round diamond shape of its Takara Tomy Stone Face counterpart.
Warrior Wheel - Dragoon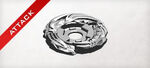 Dragoon is the only Left Spin Warrior Wheel, and can only spin left when used as the top Warrior Wheel in Synchrome. The Dragoon Warrior Wheel features three dragon heads, resembling the design motif of L-Drago, its predecessor. Two heads circle half of its circumference laterally, while one head is flat on top, offering slopes upwards by its lower jaw and teeth. Two webbed wings cover the rest of the design, with claws encircling the hole where the orb from the Element Wheel is inserted.
Dragoon is a top tier Synchrome System part, finding use in Attack/Balance/Defense/Stamina Type combinations. When used in a Synchrome combination as the top Warrior Wheel, Dragoon can deliver strong attacks, although the protrusions are small compared to other Warrior Wheels, and thus outclassed in sheer Attack power by other Warrior Wheels. However, Dragoon's Left-Spin capability gives it an advantage over other more powerful Right-Spin Warrior Wheels because it is not affected by "Zero-G Attacks", which attempt to sway the stadium in the opposite (Left-Spin) direction.
Its slopes can be used to attack opposing Beys and knock them away when used with low Spin Tracks, but this has not proven to be a reliable characteristic. Because of its heavy weight, it can handle recoil well when in Synchrome combinations with rounder, smoother or heavier Warrior Wheels, giving it use in Defense Type customs. Although its poor balance makes Dragoon seemingly a poor choice in Stamina Type combinations, the Left-Spin allows for Spin Steal, which can be used in Zombie Stamina-Type combos.
Element Wheel - Ronin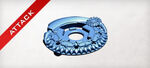 Ronin is a two-sided Element Wheel, with sharp studs on one half and an aggressively curved blade on the other. A slight, smooth slope is created by this blade in Ronin's design. Ronin can be fit on any Warrior Wheel, including Right-Spin ones. If Ronin is placed in Crystal Up Mode, the customization becomes Left-Spin.
When paired with Dragoon and other Warrior Wheels, Ronin can provide some Smash Attack, but like all other Element Wheels it is rendered useless because of its light weight compared to Synchrome combinations.
Spin Track - Switch Attack 165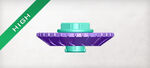 This Spin track is the first of its kind of the 165 height. This Spin Track, as it name shows, it can switch modes to variant of attacks. This spin track's roundish part is shaped like a cylinder that has a sharp point like like the ones on a tire. It also has intersecting points to add endurance and possible attack power. The main Spin Track is a basic track that allows attachments on it. It is all colored a translucent black.
Performance Tip - Wide Semi-Flat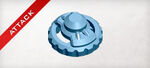 This Performance tip is a version of the Semi Flat performance tip. It is the basic Semi Flat performance tip with the exception of it being exceptionnaly wide and capable of more Defense and Attack power. It is colored translucent black.
Attack: 6 - Defense: 0 - Stamina: 1
Gallery
Toyline
Hasbro
Trivia
References