Doctor Strange in The Multiverse o Madness - The Loop
Play Sound
Saramanda Balro DF145SWD is a Beyblade released in the  Beyblade Zero-G Ultimate Synchrom DX Set Attack & Balance Type on November 17, 2012 in Japan.
Stone Face: Balro
This face depicts the skull and horns of a Balrog, a mythical demon of fire and shadow.
Warrior Wheel 1: Balro
Like all Warrior Wheel, the Balro Warrior Wheel features an asymetrical design. However, Balro has a unique design feature: like the Balro Shogun Face Bolt, the design is reversible, and becomes a different Spirit design when viewed upside down. On one side is a demon head with two long horns and an abnormal, star-shaped right eye. On the opposite side, the design features a skull design with wing-like protrusions surrounded by flames. Most of the Balro Warior Wheel's surface is dedicated to the two large horns; the overall shape consists of many jagged edges and curves.
Warrior Wheel 2: Saramanda
The Salamander Warrior Wheel design consists of lines of scales and points coupled with some curves on the sides. There are also two other smoother areas to break the patterns of sharp scales.
Salamander has a decent weight, and is slightly imbalanced - when used as the top Warrior Wheel of a Synchrome Beyblade, Salamander can provide weight for Force Smashing combos. Salamander has minor Smash Attack, which contributes to a Smash Attack Synchrome Beyblade. Salamander also has average Defensive qualities and can be used in Defense Synchromes as the top Warrior Wheel when Leviathan is not available.
Salamander has little to no Force Smash, so with the exception of assisting in a Force Smash combo, Salamander performs the same on the bottom as it does on the top of a Synchrome.
Spin Track: DF145
Down Force 145 (DF145) has four upward facing wings protruding from the top of the Spin Track, which aside from giving it extra weight are meant to push air downwards. It is outclassed for use in Stamina combinations. Instead, Spin Tracks such as AD145 and 145 are used.
Performance Tip: SWD
| | | | | | | | | | |
| --- | --- | --- | --- | --- | --- | --- | --- | --- | --- |
| Weight: | 0.82 gram | Full Width: | 15.67 mm | Tip Width: | 14.58 mm | Full Height: | 8.96 mm | Tip Height: | 6.50 mm |
SWD has an odd shape: it's basically a small sharp tip encased in a straight, circular frame of plastic, leaving a hole between the tip and the frame. From the side, SWD looks like a large FS with a smaller tip.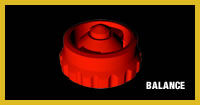 Sharp Wide Defense (SWD) is a Balance-oriented Performance Tip first released with Fusion Hades and is an upgraded version of Defense Sharp (DS). As its name states, SWD consists of WD fused with S. While it retains the same appearance as WD, it has a hole at it's bottom. The hole reveals the Sharp Tip protruding upwards. This is similar in manner to DS, abeit SWD's surrounding ring is wider. SWD also bears an uncanny resemblance to EWD, minus the free-spinning bearing. This release of SWD is translucent red in color.
In terms of overall performance, SWD is a rather good Performance Tip for Stamina Combinations, as it does well on combos that use Fusion Wheels such as Scythe, Phantom, and Duo, although failing on certain combos; especially against combos that use WD, as well as on combos using Performance Tips of tall-height like TH170. It is also viable to scrapes on BD145, similar to WD and EDS, but appears equal to WD on other occasions.
Overall, SWD is a good Stamina tip, able to hold its ground against other Stamina Combinations.
Attack: 1 Defense: 3 Stamina: 3
Gallery