Weight: 4 grams
Height: 14.5 millimeters
H145 has two wings with two various protrusions, representing the horns of a Bull surrounding its perimeter. These four points are meant to provide Smash Attack, and they do succeed on some levels. However, because the horns are so pronounced, and because the gaps between the wings are so wide, significant recoil is produced, especially when used in combination with small Metal Wheels that allow the Horns to extend well past the perimeter of the Wheel. While H145 may not be an entirely noteworthy part as far as competitive customizations go, it is still quite a fun part to play with. You can score many impressive KO's with the smash it produces in the first few seconds of a battle, but at the same time, it's recoil does work against you in some battles, causing a self-KO or if not, a severe loss of Stamina.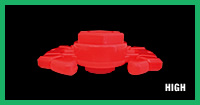 IMPORTANT: Mold Variations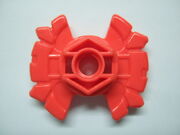 H145 has two different molds. The first version's wings were not reinforced in anyway, so they were prone to breakages in some cases. The second mold which was brought into production a couple months after it was originally released rectified this problem by reinforcing the wings with a significant amount of plastic between the inside of the wings and the outside of the Track. This increased the weight of the Track to 4.3 grams, only .2 grams lighter than the third heaviest Track, GB145. The increased weight not only reduces breakages, but it also marginally helps reduce the recoil it produces.
Use in Smash Attack Customization
H145's recoil can be utilized best in combination with the extremely proficient Smash Attack Wheel Lightning, in the custom, MF Lightning LDrago H145RF. Both MF and RF help reduce the amount of recoil produced by this customization, and RF of course increases its movement speed.
Community content is available under
CC-BY-SA
unless otherwise noted.