Spiral Fox 130D is a Balance Type Beyblade released by Hasbro as part of the Hybrid Wheel System. It was released in western countries in the Beyblade: Metal Fury Destroyer Dome Set.
Face Bolt - Fox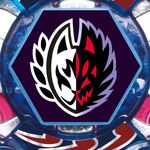 Face Bolt - Fox
Energy Ring - Fox
Fox is a circular Energy Ring with claw-like ridges circling the perimeter.
Fusion Wheel - Spiral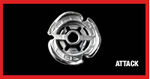 Spiral resembles a distorted version of Storm with three wings that curve upwards and line down with a small gap between each wing. Each wing has a slope that is bigger than the other one, and features oval-like protrusions that appears to slightly push-up for Smash Attacks. Before it's release, Spiral was said to be able to conduct Upper Attack due to the slopes, however upon testing, it did not show much Upper Attack at all.
While not having the correct slopes for Upper Attacks, it is however able to conduct Upper Smash Attacks. Spiral is a powerful Attack-Type Fusion Wheel but is outclassed by other Wheels like Beat, Lightning, and Variares. Despite this, Spiral can deal a great amount of Upper Smash Attack if used with the right Energy Ring. Specifically, small Energy Rings that expose more of the metal of Spiral, Pisces and Tempo are recommended, however Pisces has better use. Spiral can be used very effectively in the balance combo MF Spiral Tempo (Screw Horogium) 90MF.
Spin Track - 130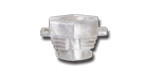 130 is a Spin Track of medium height, primarily used for Defense Type combos. It is a basic all-around Spin Track that also has uses in Attack and Stamina Type combinations. The 130 height is also found in Spin Tracks like Shield 130 (S130) and Wing Attack 130 (WA130).
Performance Tip - Defense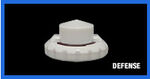 Defense (D), as the name implies, was the first Defense Type Performance Tip released in the Metal Saga series. Defense is similar to Spike, but is wider. Compared to the Stamina Type Spike, Defense actually has superior Stamina capabilities, with less recoil and more recovery. However, the added friction from the wider tip causes the Beyblade to lose Stamina during recovery.
Gallery
Toyline
Hasbro
Trivia