Storm Capricorn M145Q or Storm Capricorne M145Q (ストームカプリコーネM145Q, Sutōmu Kapurikōne M145Q) is an Attack Type Beyblade released as part of the Hybrid Wheel System. It was released by Takara Tomy in Japan as a Booster on October 24, 2009 for 650円.
Face Bolt - Capricorn
The Face Bolt depicts "Capricornus", which is Latin for "horned goat". Capricornus is one of the 88 constellations in space. The design depicts a goat with six horns, and the word "CAPRICORNE" is depicted on a banner below the goat. Some variants of this Face Bolt do not have the word "CAPRICORNE", such as the Metal Fusion Fury Capricorn 100HF release which removes the words from the banner, and the Metal Masters Fury Capricorn 100HF and Spiral Capricorn 90MF which replaces the banner with more horns.
Energy Ring - Capricorn
The Capricorn Energy Ring is angular, and features two goat head designs, tailed by long horns, with two small spikes separating each head from the horns.
Fusion Wheel - Storm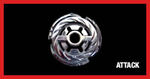 Storm is the first Attack Type Fusion Wheel released in the Hybrid Wheel System. As the successor to the Pegasis Wheel, it features a similar three-winged design, although these wings are flatter compared to Pegasis. Each of the wings have slightly jagged ends, which are used for mediocre Smash Attack. When paired with low Spin Tracks like 90 and 100, Storm was once a top-tier Attack Type part. However, it has since been outclassed by countless other Fusion Wheels, such as Vulcan, Lightning and later Blitz and Flash. In addition, Spiral can be considered the successor to Storm, with a similar shape and superior attack capabilties.
Spin Track - Move 145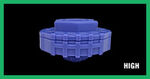 Move 145 (M145) is a round Spin Track with a mode change gimmick that is intended to work in tandem with the Quake Performance Tip, which Move 145 was released alongside with. The position of the Performance Tip can be switched, changing the frequency of bounces from the Performance Tip. In both modes, the Peformance Tips are off center, although the degree will vary between the modes.
Performance Tip - Quake
Quake is a uniquely shaped Performance Tip; it is essentially a Wide Flat tip but with an elliptical shape. Due to this asymmetry, it performs similarly to a Wide Flat, albeit with small jumps. Due to this, Quake has poor stamina, and works best when paired with low Spin Tracks like 85.
Quake is intended to work with the Move 145 Spin Track that Quake was released alongside in with the Storm Capricorne M145Q Booster. The jumping frequency of Quake can be changed by using the Move 145 gimmick to move the position of the Performance Tip.
Gallery
Toyline
Takara Tomy
Hasbro
Anime
Trivia
References