Storm L-Drago WD145B Crystal Wolf Ver. is a Defense Type Beyblade released as part of the Hybrid Wheel System. It was released by Takara Tomy with a Hong Kong Mani Limited DVD set containing episodes 40-51 of Beyblade: Metal Fusion.
Face Bolt - L-Drago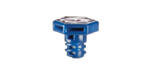 The L-Drago I Face Bolt depicts "Draco", one of the 88 constellations in space. The design features a dragon facing the left, with the words "L Drago" printed beneath the dragon. Some Starter Pack variants have a black background. The Dragon Bite Strike 2-Pack release has the words removed.
Energy Ring - Wolf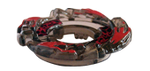 The edges of the Wolf Energy Ring consists of four wolf "heads", with one in each quarter of the Energy Ring. This equal weight distribution makes the Beyblade more stable, but Wolf is outclassed by heavier Energy Rings such as Aquario and Kerbecs.
Fusion Wheel - Storm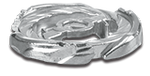 Storm is the first Attack Type Fusion Wheel released in the Hybrid Wheel System. As the successor to the Pegasis Wheel, it features a similar three-winged design, although these wings are flatter compared to Pegasis. Each of the wings have slightly jagged ends, which are used for mediocre Smash Attack. When paired with low Spin Tracks like 90 and 100, Storm was once a top-tier Attack Type part. However, it has since been outclassed by countless other Fusion Wheels, such as Vulcan, Lightning and later Blitz and Flash. In addition, Spiral can be considered the successor to Storm, with a similar shape and superior attack capabilties.
Spin Track - Wide Defense 145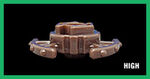 Wide Defense 145 (WD145) features three "wings". The wings are similar to that of ED145, the only difference being that its wings cannot spin freely. The defensive capabilities of this part are outclassed in all areas by other Defensive Tracks, such as C145, GB145, BD145, and 230, as it does not absorb hits as successfully. Furthermore, it is easy for the low attacker's Wheel to be caught between the Wheel and WD145, causing a lot of recoil and spin reduction in the process.
Performance Tip - Ball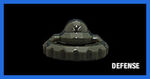 Ball (B) is a hemispherical plastic tip, providing a large area for contacting the stadium floor, hence increasing friction. Ball's shape also makes the Bey tend to stay in the center of the stadium, making ideal for use in Defense combinations.
Gallery
Toyline
Takara Tomy
Trivia
References