Storm Leone 100HF is an Attack Type Beyblade released by Hasbro as part of the Hybrid Wheel System. It was released in western countries in the Beyblade: Metal Fusion Red Horn Uppercut 2-Pack for USD$15.99 in the United States.
Face Bolt - Leone I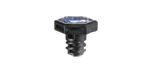 The Leone I Face Bolt depicts "Leo", one of the 88 constellations and the fifth astrological sign in the Zodiac. The letters "L", "E", "O" are featured below the lion, along with a star.
Energy Ring - Leone I
Leone I is a circular Energy Ring with small ridges and an armor-like design. Although its circular shape gives defensive capabilities, Leone I is too light and has poor weight distribution, and thus is outclassed heavily by later releases such as Gasher, Aquario, Bull, etc. The Energy Ring features camoflauge stickers for its detailing.
Fusion Wheel - Storm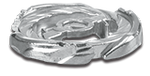 Storm is the first Attack Type Fusion Wheel released in the Hybrid Wheel System. As the successor to the Pegasis Wheel, it features a similar three-winged design, although these wings are flatter compared to Pegasis. Each of the wings have slightly jagged ends, which are used for mediocre Smash Attack. When paired with low Spin Tracks like 90 and 100, Storm was once a top-tier Attack Type part. However, it has since been outclassed by countless other Fusion Wheels, such as Vulcan, Lightning and later Blitz and Flash. In addition, Spiral can be considered the successor to Storm, with a similar shape and superior attack capabilties.
Spin Track - 100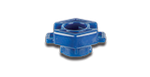 100 is the third lowest Spin Track available, but is outclassed in terms of Attack and Stamina by the even lower 85 and 90 Spin Tracks. 100 has no problem with floor scrapes, and while it is generally an outclassed part, it is still competitively viable, particularly in Attack customizations where it is able to make contact with opposing Beyblades.
Performance Tip - Hole Flat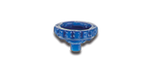 Hole Flat (HF) has a similar movement to that of Flat, with the main difference being a slight Stamina improvement due to the hole in the center of the tip. However, this comes with the detriment of even less grip to the stadium floor than Flat, as well as increased fragility. The hole will eventually wear after use, reducing its grip further.
Gallery
Toyline
Hasbro
Trivia
Storm Leone 100HF may be a reference to the generic Beyblade used by Gingka Hagane prior to obtaining Storm Pegasus 105RF, during a flashback in episode 18.

This Beyblade also shares the same lightning bolt motif as the Hasbro release of Storm Pegasus.

This Bey has an electronic version: Electronic Storm Leone.