Storm Leone 145ES
is
Echizen
's Beyblade.
Face Bolt: Northern CrossEdit
The Face on this Beyblade is Nothern Cross.
Energy Ring: LeoneEdit
The regular release of Leone is a transparent, blue-green piece. Leone is very circular with small ridge details. This energy ring is a purpleish-brown translucent color.
Fusion Wheel: StormEdit
The main shape of Storm consists of three wing like forms, which are used for considerable Smash Attack. The wheel is a cheaper alternative for that of Quetzalcoatl, and is considered by many to be inferior to the Lightning Metal Wheel.
Storm Bull 100RF, however is still a good Attack combo, due to a decent level of Smash Attack ability from the Storm Wheel. The slightly jagged end of each of the three wing like forms that Storm consists of are well suited for Smash. Quetzalcoatl, however, is still a far more consistent Attack wheel.
Spin Track: 145Edit
145, along with its variants (C145, DF145, etc.), was once the highest Track available, until the 230 Track was released with Flame Byxis. It can be used in Stamina customs to great effect due to its tall height, which allows for more wobbling as the Beyblade loses its spin velocity. 145, as tall as it is, makes it easily susceptible to low Attackers; however, this should not be seen as a drawback because Stamina Types are not traditionally designed to be used against Attack Types.
145 can be put to good use in the Attack custom, MF Pegasis 145RF. Pegasis has been proven to perform viciously when used in unison with 145, which maximizes the effectiveness of its Smash Attack, especially when used with wheels like Pegasis, Cyber, and Big Bang.
Performance Tip: Eternal SharpEdit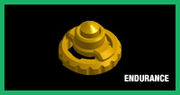 Eternal Sharp features a free-spinning tip attached to a metal shaft which is held by the Bottom. The part was one of the most heavily anticipated parts in the MFB lineup when first announced, but ES is actually a hugely disappointing part in terms of performance.
Firstly, ES lacks a metal bearing, which would significantly reduce the friction between the free-spinning tip and the rest of the Bottom. All of the best free-spinning tips, notably Bearing Core, had NSK Shield bearings which allowed unhindered spin.
Secondly, the tip shape of ES is not conducive to optimum Stamina; the sharp nature of the Bottom means it is easily destabilized. As all Sharp tips do, Eternal Sharp also has trouble regaining balance, hence making this a poor choice for Stamina. That said, ES still remains superior to BS and S as Stamina Bottoms.
Storm Leone 145ES has the same Facebolt as Dark Gasher 145S.
Both Echizen and Kazuki had Storm Leones, both are destroyed.