Storm Pegasis C145WF Galaxy Red Ver. (ストームペガシスC145WFギャラクシーレッドバージョン, Sutōmu Pegashisu C145WF Gyarakushī Reddo Bājon) is an Attack Type Beyblade released as part of the Hybrid Wheel System. It was released by Takara Tomy in Japan as a CoroCoro Comic lottery prize. Only 100 copies of this Beyblade exist.
Two similar Beyblades with the same colors were also released outside of Japan: Storm Pegasis 100HF in Taiwan and Storm Pegasis 105HF in Hong Kong.
Face Bolt - Pegasus I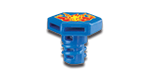 The Pegasus I Face Bolt depicts "Pegasus", the magical winged horse that soared into the heavens for the Greek god, Zeus. Pegasus is one of the 88 constellations in space. The design features the head of Pegasus, appearing white with pupil-less eyes, along with its snout. It also shows Pegasus' two ears, with a long mane alongside a shorter one, sprouting from its head in a lightning bolt-like manner. There are also curved details next to the ears, which are outlined. Next to its head are the stylized letters "P" and "S".
The Cyber Pegasus 105F variant has a filled in "P" and "S". The Face Bolt included with the Beyblade Legends release of Storm Pegasus 105RF is printed and features a yellow head instead of white.
Energy Ring - Pegasus I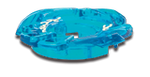 The first of the "Pegasus" line of Energy Rings, Pegasus I is designed to resemble Pegasus' wings and head. The Energy Ring is constructed of polycarbonate and intended to fit over the Fusion Wheel for weight distribution. Like all the Pegasus Energy Rings, Pegasus I is completely symmetrical.
The stickers differ depending on the release. The original Takara Tomy stickers feature the words "Hybrid" and "Wheel", referencing the Hybrid Wheel System of which Storm Pegasis 105RF is the first of. In Hasbro releases this was changed to lightning bolts instead; the Beyblade Legends release features printed lightning bolts instead of stickers. The Hasbro exclusive Cyber Pegasus 105F features stickers similar to those used on Pegasis 105F. The Cyber Pegasus 100HF version features circuit board-like designs, with the Takara Tomy and Hasbro releases varying in color.
Fusion Wheel - Storm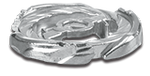 Storm is the first Attack Type Fusion Wheel released in the Hybrid Wheel System. As the successor to the Pegasis Wheel, it features a similar three-winged design, although these wings are flatter compared to Pegasis. Each of the wings have slightly jagged ends, which are used for mediocre Smash Attack. When paired with low Spin Tracks like 90 and 100, Storm was once a top-tier Attack Type part. However, it has since been outclassed by countless other Fusion Wheels, such as Vulcan, Lightning and later Blitz and Flash. In addition, Spiral can be considered the successor to Storm, with a similar shape and superior attack capabilties.
Spin Track - Claw 145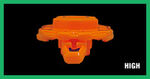 | | | | | | | | | | |
| --- | --- | --- | --- | --- | --- | --- | --- | --- | --- |
| Weight: | 3.2 grams | Maximum Width: | 34.0 mm | Minimum Width: | 27.0 mm | Full Height: | 14.50 mm | Claws & Platform Height: | 7.8 mm |
C145 has three wings which extend outwards, each separately joined onto the underside of the Spin Track. These are free moving, and hence when the Beyblade is launched, these point outwards due to spin velocity. Their free moving nature make them very effective for defensive purposes, as they are able to withstand low hits to the Spin Track without significant spin loss. Furthermore, the Spin Track is significantly heavier than non-gimmicked Tracks such as 145, providing extra weight essential for Defense. The Spin Track subsequently used to be an essential part for Defense customizations. However, with the advent of the Maximum Series, C145 became outclassed especially by the much heavier BD145, which also offers much more protection to the underside. better Attack and defense parts from the 4D era and beyond also render C145 useless completely.
Performance Tip - Wide Flat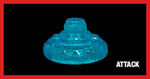 Wide Flat (WF) is a wider variant of the Flat Performance Tip, and is twice the size of Flat. While Wide Flat is much faster due to the increased surface area, it has very poor grip and thus struggles to hold a flower-like pattern. It has since been outclassed in terms of width by Extreme Flat (XF).
Gallery
Toyline
Takara Tomy
Trivia
References