Storm Serpent T125HF is an Attack-Type Beyblade and a variation of Storm Serpent SW145SF. It can be found in Random Booster Vol. 5 Grand Ketos.
Face Bolt: Serpent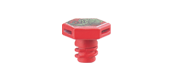 The Face Bolt depicts "Serpens", one of the 88 constellations in space. The constellation represents a snake being tamed by the snake-handler, "Ophiuchus". The Bolt show the cobra with its deadly fangs and tongue showing. The design is a green cobra on a red background.
Energy Ring: Serpent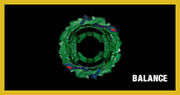 ​Serpent is normally green in color, and its design represents multiple snakes with two snakes in blue with red eyes. It also slightly represents Medusa's hair. It is green with blue highlights acting as two snakes. The trunks of the snakes act as Defense while the head acts as Attack. It comes with red stickers, representing snakes This version is purple in colour.
Attack: 2 - Defense: 3 - Stamina: 2
Fusion Wheel: Storm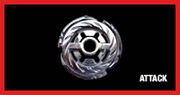 Storm was first released with Storm Pegasus 105RF. The Storm wheel has three wing-like forms. The wheel is a cheaper alternative for that of Quetzalcoatl, and is considered by many to be inferior to the Lightning Metal Wheel. It is also inferior to Vulcan Horeuseus. Storm does give some smash attack but is too light to give out a considerable attack. Its counterpart Cyber is actually better since its design was based on the original Pegasis Wheel, which is by far the second most effective wheel of all the Pegasis releases (Big Bang is the first). Cyber, too, however, is also outclassed by other Fusion Wheels. In a way, its upgraded version is Spiral, as Spiral deals a greater amount of smash attack, and resembles Storm.
Attack: 5 - Defense: 1 - Stamina: 1
Spin track: Tornado 125 (T125)
T125 has four upward-facing protrusions spaced apart widely. The track is designed to work in a similar way to DF145, although the effect it produces is negligible. The performance of this track is similar to D125. It is used in some Stamina, Balance, and Attack customizations because of its mid-height.
Attack combos such as Evil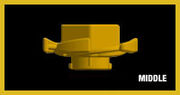 Lacerta T125XF and MF Lightning L-Drago T125LRF, and Balance combos like Legend Cyber Pegasus T125SD make T125 useful.
Preformance Tip: Hole Flat (HF)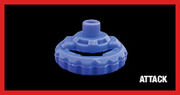 HF has a very similar movement speed to that of F, with the main difference being a slight Stamina improvement due to the hole in the middle of the tip. But, with this comes the detriment of even less grip to the stadium floor than F, and also increased fragility. It is a great attack tip for bladers who mostly use attack types.
Attack: 4 - Defense: 0 - Stamina: 3
Trivia
This is one of the 6 random booster beys to have a purple color energy ring.