Striker Drone is a Beyblade XTS Stealth Battler released by Hasbro in 2012. When it gets hit it releases another smaller Ray Striker disk from the below for attack double. Striker Drone resembles Ray Striker. it also seems to have an ability to spin without the bottom striker disk.
Overview
It has two disks, the top one is like a teal, and the bottom one is blue. The bottom disk has 3 little spikes that act as switches and attack when the bey is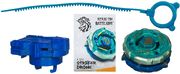 one peice, and they act like extra attack when the bey opens up. It has a hole on the bottom disk where a facebolt should be so that you can put the top disk on (you put the "performance tip" in the hole), and prepare it for battle by twisting it slighty counterclockwise.
Performance
Striker drone works suprisingly well. The bottom disk has a Semi-flat, and amazing smash, although not much weight. The Top has even smaller weight, and not much smash. It has a very small defense tip. Some beys get knocked out by the force of the bey opening up, and some get destroyed by its double attack. However, in some cases, the beyblade will unfortunately defeat itself.
Video
Community content is available under
CC-BY-SA
unless otherwise noted.