| | |
| --- | --- |
| | This article is part of Beyblade Wiki: Project: Accessories, a Beyblade Wiki project that aims to cover all aspects of Beyblade Accessorization such as Stadiums, tools, launchers, and upgrades. |
h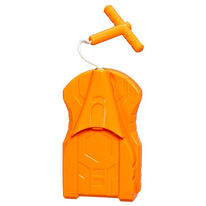 A String Launcher (known in Japan as a BeyLauncher) is an alternative to the Ripcord Launcher used to launch Beyblades into battle in Beyblade: Metal Fusion. They can be considered an upgrade to the Beyblade Launchers. They are usually sold seperately internationally, however some beys in Japan, such as Meteo L-Drago LW105LF and Gravity Destroyer AD145WD, come with String Launchers with a custom design on them.
Overview
The String Launcher uses a string for the ripcord. It has a "T" shaped handle which is pulled to launch the Bey that replaces the ripcord in the Beyblade Launcher. Also, when one pulls the handle, it retracts back to the Launcher unlike the ripcords which need to be inserted back in the Beyblade Launcher. Hasbro's String Launcher has a longer neck than Takara Tomy to prevent the string from breaking, but because of a longer neck it isn't compatible with Takara Tomy's launcher rubber and suspension.They also have it in a metallic red for right spin.
Complaints
Some people have complaints with these type of Launchers. The handle can be broken off if pulled all the way. Due to this, some people demand a ball-shaped handle or one made of metal. The string may also be broken in the same way. Due to this, a player should treat it with care. You should not get knots in the string because it will make the string weaker when you untie them.
Tips
If paired up with a suspension or launcher rubber, the string launcher will be stronger than the light launcher.
When you feel you have pulled the string as far as you want it, let go of the string. It will retract and should resolve some "Lost Power" problems.
If you pull the string too hard, it can break.
Gallery