The
Super Vortex Battle Set
is a Beyblade starter-set released by
Hasbro
. It comes with 2 exclusive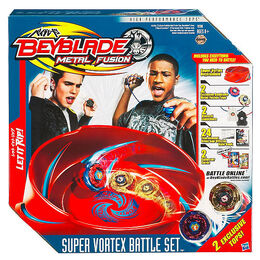 Beyblades, a Super Vortex Beystadium, 2 Beyblade Launchers, official rule book and 24 Tournament Grids as well as two codes to put in Beybladebattles.com.
Contents
It includes the following
Blue and Red colored Storm Pegasus 105RF
Gold and Red colored Lightning L-Drago 100HF
White Pegasus Beyblade Launcher
Black L-Drago Beyblade Launcher
Blue Pegasus ripcord
Red L-Drago ripcord
Green Pegasus Tool
Red L-Drago Tool
Super Vortex Beystadium
Official rulebook
24 Tournament Grids
2 BeybladeBattles.com codes
Trivia
In the box for the set, two launchers are shown, one of them Pegasus, while the other is a Wolf launcher. This may be a referance to the prototype Super Vortex Battle Set, which included only Storm Pegasus 105RF and Dark Wolf Df145FS.
This is a great stadium for beginners.
If you want to, you can cut out the walls and make the Vortex stadium into a basic BB-10 Stadium design, however the value of the stadium would be lowered dramatically.
The prototype set includes Dark Wolf DF145FS (Hasbro would make this set similar to the Hybrid Wheel Match Set, but forget this idea ).
An exclusive version of this set was released. It contains in plus Flame Sagittario C145S, Dark Wolf DF145FS and a Launcher Grip.
Gallery
Community content is available under
CC-BY-SA
unless otherwise noted.