The
Super Vortex Battle Set
is a Beyblade starter-set released by Hasbro. It comes with 2 exclusive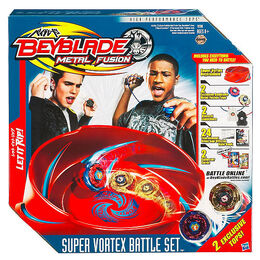 Beyblades, a Super Vortex Beystadium, 2 Beyblade Launchers, official rule book and a 24-Tournament-Grid as well as two codes to put in Beybladebattles.com.
Contents
It includes the following
Blue and Red colored Storm Pegasus 105RF
Gold and Red colored Lightning L-Drago 100HF
White Pegasus Beyblade Launcher
Black L-Drago Beyblade Launcher
Blue Pegasus ripcord
Red L-Drago ripcord
Green Pegasus Tool
Red L- Drago Tool
Super Vortex Beystadium
Official rulebook
24-Tournament Grids
2 Beyblade Battles.com codes
Trivia
In the box for the set, two launchers are shown, one of them Pegasus, while the other is a Wolf launcher. This may be a referance to the prototype Super Vortex Battle Set, which included only Storm Pegasus 105RF and Dark Wolf Df145FS.
Gallery