Team Estrella is a BeyWheelz team featured in BeyWheelz.
About
They are a pro BeyWheelz team who have taken the DREAM BeyWheelz title three years in a row, granting them the title of best Wheelers. They rival the evil Dominators, who wish to take over BeyWheelz.
Members
History
BeyWheelz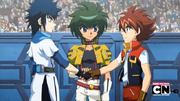 Team Estrella was formed by Sho Tenma, Jin Ryu and Leon Fierce. For the last 3 years of the DREAM BeyWheelz World Championship, each of them has claimed a spot as the World Champion. In the recent World Championships, Sho Tenma came in first place, Jin in second and Leon in third.
After the tournament finished, Team Estrella headed to the park to train, where Sho was able to defeat Leon in battle. There they are confronted by several novice Wheelers wishing to prove themselves to the team. Leon created several difficult trials for each Wheeler to complete to even have a chance at trying out for Team Estrella. This was simply a ploy to get them away from Team Estrella while they train. They continued to train until the Dominators attacked the trials which forced Team Estrella to challenge them to leave. Leon stepped forward to battle Gigante and won, forcing the Dominators to retreat.
Achievements
| Event | Result |
| --- | --- |
| DREAM BeyWheelz World Championship x3 | Win |
| BeyWheelz Grand Prix | Win |
| Judgement Bey | Win |
Gallery
Trivia
Estrella is Spanish for "star".
References