This is an article about the Anime Character. For the manga counterpart of the same name, see here.

Tetsuya Watarigani (渡蟹 哲也, Watarigani Tetsuya) is a character in the Metal Fight Beyblade Manga.
Physical Appearance
Tetsuya is a tall, skinny boy with long untamed hair and souless eyes. He wears a large collar shirt under his torn cape that only exposes the collar itself. Underneath the shir the wears a longsleeved undershirt that tucks into his jeans with ripped endings that go overtop his sneakers.
Personality
Tetsuya is a quietly devious member of the Dark Nebula where his evil intentions fit well. Even so he considered one of the less devious due to his own weakness in beyblading. Even so he enjoys pressing the buttons of his opponents which has proven to get himself in trouble.
History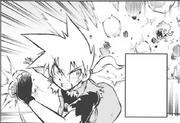 Tetsuya was recurited as a lesser member of the Dark Nebula by Daidoji. He was entered into battle bladers in order to combat Pegasis and it's owner Gingka Hagane, aswell as his allies. The lead blader of the Nebula; Ryuuga defeated Ginga's ally in the first match. Next Tetsuya would face that allies best friend; Kyouya who was also close friends with Ginga himself.
Tetusya teased Kyouya about Benkei's loss, this caused Kyouya to nearly become violent, scaring Tetsuya. Instead Kyouya decided to settle it in the beystadium. At the start of the match Kyouya used his finishing move; Mountain-Crushing Breaker to destroy Tetsuya's Dark Cancer, giving the Dark Nebula its first loss.
Beyblades
Dark Cancer CH120FS: Tetsuya's primary beyblade; an attack type beyblade that was unable to showcase its abilities due to being completley overpowered by Kyouya's Rock Leone.
Beybattles
Appearances
Gallery
Community content is available under
CC-BY-SA
unless otherwise noted.