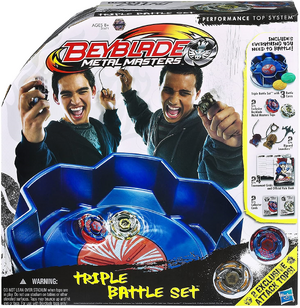 The Triple Battle Set is a Beyblade starter-set by Hasbro. It comes with two-exclusive Beys, a Beystadium, two Ripcord Launchers, official rulebook and 24 Tournament Grids.
Contents
This set includes the following.
Blue and Red recoloured Galaxy Pegasus W105R2F
Gold and White recoloured Meteo L-Drago LW105LF
Brick-red Printed Pegasus Ripcord Launcher
Gold L-Drago Printed Ripcord Launcher
Metallic Maroon Pegasus Ripcord
Black L-Drago Ripcord
Triple Battle Set Arena
Official rulebook
24 Tournament Grids
2 exclusive Tornado Battlers (when ordered on the phone).
Electro Striker (only at Target).
Duotron Launcher (only at Walmart).
Rip Gauge Launcher (only at Toys "R" Us).
Trivia
The Rule Book has a different Picture on the front, and has new pictures replacing the old ones inside.
The prototype Chaos Core and Deflector Core had an oval shape rather than a circular shape and did not have highlights and designs on it.
When you order it on the phone, you can also get 2 exclusive Tornado Battlers free.
On the commercial, it shows Pegasus beat L-Drago in 2 hits, which is impossible for you to do.
The beys in this set are closer to Takara Tomy beys.
It is better to buy these beys instead of the single packs.
The lines in these cores can lower the stamina of the Beyblade.
The walls is way too close to the Tornado Ridge for any Attack Type to ride it, thus stamina is lost from any attack type due to hitting the walls at very fast speeds.
The 'Cores' are made from hard plastic, resulting in less grip, especially for rubber tips in which they need grip to perform well in battles.
The 'Cores' rarely affect performance in a good way, and a plain center core (like in the middle of the BB-10 attack type stadium) would make it much better.
Videos
Gallery
Community content is available under
CC-BY-SA
unless otherwise noted.