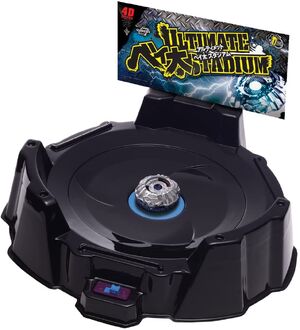 The Ultimate Bey Ta Stadium is a Beystadium based on the Bey Ta arcade machines. It comes with Prototype Nemesis with the objective being to stop Prototype Nemesis from spinning. It was released on October 21, 2011 in Japan along with Death Quetzalcoatl 125RDF.
Overview
The Ultimate Bey Stadium features a Tornado Ridge and a blue center where Nemesis is spinning to the left and right. The objective is to stop Nemesis from spinning, rather defeating Nemesis as Nemesis is stuck to the center. Nemisis can get off balance and spin wildy if hit multiple times. The Stadium appears to be black with purple highlights, and three walls to stop the Beyblade from escaping the Stadium.
Gallery
Trivia
This Beystadium was released the same day that Death Quetzalcoatl 125RDF was released.
If you bought one of the first shipments, you would have received Big Bang Pegasis Blue Wing Ver.
Community content is available under
CC-BY-SA
unless otherwise noted.