Ultimate Gravity Destroyer Attack 130F or Gravity Perseus Attack Ver. 130F (グラビティペルセウスアタックバージョン130F, Gurabiti Peruseusu Atakku Bājon 130F) is an Attack Type Beyblade released by Takara Tomy as part of the Ultimate Reshuffle Set Perseus Ver. set on November 20, 2010. It was released in western countries as a Starter Pack by Hasbro in December 2011.
Face Bolt - Destroyer
Main article: Face Bolt - Destroyer
The Face Bolt depicts "Perseus", a Greek hero and one of the 88 constellations in space. In Greek mythology, Perseus slayed the gorgon "Medusa" by cutting off her head. He later used the head of Medusa to defeat "Cetus". The design displays a Greek gladiator helmet design, with the name "Perseus" written below it. When the Face Bolt is viewed upside down, it resembles the head of Medusa, a reference to Gravity Perseus' Special Move.
Energy Ring - Destroyer Attack
Main article: Energy Ring - Destroyer Attack
Like the other Energy Rings in the "Destroyer" series, Destroyer Attack is a dual spin Energy Ring designed to be used with the Gravity Fusion Wheel. Destroyer Attack has a mode change gimmick when the Energy Ring is rotated 180 degrees, switching between "Counter Mode" and "Defense Mode". Depending on the mode, the "eyes" of the Fusion Wheel will be covered by the Energy Ring.
Despite the Attack Type classification, the differences between the Destroyer Energy Rings are negligible, and are mostly for cosmetic purposes.
Fusion Wheel - Gravity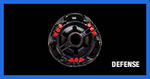 Main article: Fusion Wheel - Gravity
Gravity is intended to be used with the Destroyer line of Energy Rings. As such, it features three curved pockets meant for a Destroyer Energy Ring to rest in. Gravity is a thick Fusion Wheel, and is dual spin, lacking the protrusions that usually prevent a Fusion Wheel from being used with the wrong direction launcher. When a Destroyer Energy Ring is rotated 180 degrees, Gravity Destroyer can switch between "Counter Mode" and "Defense Mode", covering the "eyes" of Gravity depending on the mode.
In Defense Mode, the Energy Ring covers the jagged protrusions, increasing metal on plastic contact, reducing recoil. In Counter Mode, these jagged protrusions are exposed, leading to high recoil and an increase in Smash Attack.
Spin Track - 130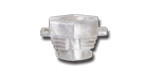 Main article: Spin Track - 130
130 is a Spin Track of medium height, primarily used for Defense Type combos. It is a basic all-around Spin Track that also has uses in Attack and Stamina Type combinations. The 130 height is also found in Spin Tracks like Shield 130 (S130) and Wing Attack 130 (WA130).
Performance Tip - Flat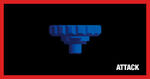 Main article: Performance Tip - Flat
Flat, as the name implies, has a flat plastic tip, which gives it an offensive movement pattern. It is the equivalent of Flat Core (HMS) or SG Flat (Plastic). Flat has a hard time retaining a flower pattern due to it being plastic, which results in it having less grip to the stadium floor than a rubber Performance Tip.
Other Versions
Recolors
Variants
Gallery
Toyline
Takara Tomy
Hasbro
Trivia
Regardless of which mode it's in, the blue "eye" stickers on the Gravity Fusion Wheel are not visible.
Community content is available under
CC-BY-SA
unless otherwise noted.