Ultimate Meteo L-Drago Rush 125SF or Meteo L-Drago Rush Ver. 125SF (メテオエルドラゴラッシュバージョン125SF, Meteo Erudorago Rasshu Bājon 125SF) is an Attack Type Beyblade released by Takara Tomy as part of the Beyblade Ultimate Customize Set L-Drago Ver. set on November 20, 2010. It was released in western countries in the L-Drago Battle Set by Hasbro in September 2011.
Face Bolt - L-Drago II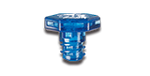 The L-Drago II Face Bolt depicts "Draco", one of the 88 constellations in space. The design features a dragon facing the left. Unlike the L-Drago I Face Bolt, L-Drago II depicts a more detailed dragon design, with the "L-Drago" text replaced with claws.
Energy Ring - L-Drago Rush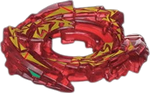 Like L-Drago II, the L-Drago Rush Energy Ring can switch between two modes by changing the position of the Energy Ring on the Fusion Wheel, in this case, Meteo. Like L-Drago II, these modes are "Assault Mode" and "Barrage Mode"; however, as L-Drago Rush lacks the rubber and thus the spin-steal capability of L-Drago II, the differences between these two modes are barely noticeable.
Fusion Wheel - Meteo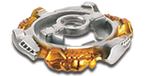 Meteo features six protrusions of an alternating pattern between "jaws" and "claws". It is a small Fusion Wheel, as most of the contact points include the rubber from L-Drago II for spin steal. The jaw protrusion is smooth, while the claw protrusion is rugged. Meteo is meant to solely interact with L-Drago II and its variants (Assault and Rush) and cannot be used with other Energy Rings. L-Drago II can be placed in two different positions on top of Meteo to switch between modes: Assault Mode, where L-Drago II's dragon heads cover the claws, and Barrage Mode, where the heads cover the jaws.
Spin Track - 125
125 is a midway between the 105 and the 145 Spin Tracks. Utilized in mid-height Stamina Type combos, it is more difficult to destablize compared to 145 height Stamina Type combos. It has declined in popularity due to the release of gimmicked Spin Tracks of the same height, such as Tornado 125 (T125) and Defense 125 (D125), which offer more weight and balance capabilities.
Performance Tip - Semi-Flat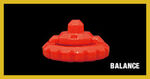 Semi-Flat (SF) is a sharp tip with a flattened end. As a result, Semi-Flat displays a combination of Attack and Stamina qualities, moving in a semi-aggressive pattern. Because of this however, the two attributes are compromised, resulting in an average performance in both categories.
Semi-Flat produces a movement pattern that, while aggressive, is much slower than any flat Performance Tip. The increased friction with the stadium floor due to the wider tip both increases its Defense and Stamina in comparison to a bottom similar to Spike (S) or Eternal Spike (ES). However, it is in absolutely no competition with Performance Tips such as Wide Defense (WD) for Stamina or Rubber Spike (RS) for Defense.
Semi-Flat found a niche use in Destabilizer combinations, where a low Spin Track combined with Semi-Flat's balanced qualities allowed the Beyblade to destabilize the opposing Beyblade.
Gallery
Toyline
Takara Tomy
Hasbro