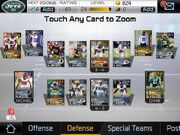 Hello everybody I am super saiyan 1 kid goku and I am huseindibba1234 I disabled dat so I created this my favorite songs are:white and nerdy and macrena and super dragonsoul and Amish paradise and fly away and rock and roll is dead and Are u gonna go my way. And pass the dutchi. And can't hold us also let it rock and bunch of other ones
My friend is Edboy3 aka Ed, we met when he welcomed my and we have been friends ever since. There are 4 reasons he is awesome 1:easy going 2:awesome 3:serious about rules 4:loves video games I like similar video games
My favorite anime :dragonball dragonballz and gt and Kai. My second favorite is yo-gi-oh.and third Pokemon
My favorite tv shows:Power rangers. Ok and little bit of cow boy bebop And I : awesome And I am a great friend And I could be your rival to This is awesome I love to joke around to.i LOVE TO GOOF OFF more than anything else. I even like naruto. I live the theme song fighting dreamers I. Like the madden series And nba2k series All cupcakes are yum!!!!!!! I have been on wikia for almost a year and started on many wikis my third one was beyblade wiki I started of a little rough though cause I was getting used to the system.out side of anime I like south park VoiceOver on Double tap to toggle setting.
About King of video games 9
| Music | Title |
| --- | --- |
| | basket case |
| | American idiot |
| | Jesus of surburbia |
| | nice guys finish last |
| | when I come around |
| | Fancy |
| | song 2 |
Community content is available under
CC-BY-SA
unless otherwise noted.