When Beyblade Battles was updated,Hasbro publish a commercial...
The BeyWarriors Commercial
If you want look the commercial : www.beybladebattles.com/fr-FR/videos/
(P.S:sorry for the French URL)
If you don't know BeyWarriors, let me explain: BeyWarriors is a spin-off toyline of Beyblade Zero-G/Shogun Steel by Hasbro. These are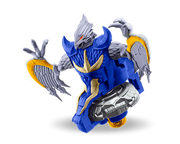 similar to the Fighting Spirits for the Original Series but they are customizable they are composed of a Battle Core , Warrior Weapons and Shogun Tip.
3 types of BeyWarriors:
Speed Attack
Range Attack
Endurance Attack
For my personnal opinion, BryWarriors are cool. Hasbro make me suprised
Stay tune for more informations !!! =)
Community content is available under
CC-BY-SA
unless otherwise noted.