Variares D:D (ヴァリアレスD:D, Variaresu D:D), often stylised as VariAres D:D in Takara-Tomy merchandise, is a Defense-type Beyblade released as part of the 4D System. It was first released in Japan on July 16, 2011 as a Starter for 1365¥.
Face Bolt - Variares
Main article: Face Bolt - Variares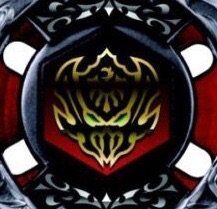 The Face Bolt depicts "Ares". In Greek mythology, Ares was the Greek god of War. The design features a yellow helmet-like design with glowing green eyes on a red background whilst on a black Face Bolt. The helmet looks like it has swords on the sides and a shield between the blades. The Face Bolt design is similar to the Destroyer/Perseus, Jupiter, and Darkhelm ones.
Fusion Wheel - Variares
Main article: Fusion Wheel - Variares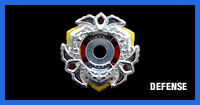 Variares is known to be the second Fusion Wheel that can spin left and right, after Gravity. Variares has a unique design featuring three wings with many spikes and protrusions sticking out. There is a gap between each wing which reveals the built-in PC Frame. The Wheel consists of the metal part, the yellow PC Frame with a shield-like design that retracts during battle, and a red plastic part at its bottom. The Frame can also change modes, similar to other 4D Beys. However, this occurs only during battle because of centrifugal force and is not manual. At first it starts out in "Attack Mode" in which the PC Frame is hidden and when rotation becomes lower, it reverts to "Defense Mode" where the PC Frame appears. However, unlike the other 4D Frames, all pieces of this Fusion Wheel are together. The mechanism of Variares is simple. The PC frame's yellow spikes that stick out in Defense Mode are loose when pushed back in Attack Mode. When launched the speed and the force around the bey is so great that it pushed the spikes back, thus Attack Mode. When it loses stamina, it loses speed which allows the spikes to pop out to make it in Defense Mode. Because of Variares's unique and versatile design, it is unarguably the most aggressively designed Wheel ever released in Metal Fight Beyblade. Combined with its heavy weight and many spikes and protrusions, it is perfectly capable for Smash Attack and has become a top-tier attack wheel although it causes high recoil which slows it down so there's not much time you have in Attack Mode (with or without flat tip).
Performance Tip - Delta Drive
Main article: Performance Tip - Delta Drive
Delta Drive (D:D) is of a round shape with a translucent black color and with a height comparable to 145WD. It is an interchangeable 4D Bottom unique to Variares. It can change between three different Performance Tips, which will change how it will perform: "Flat" for Attack, "Wide Ball" for Defense, and "Sharp" for Stamina. Each Tip can simply be changed by pulling the Tip until it lightly clicks, then scrolling to your preferred Tip and pushing it back in place. These Tips sometimes wobble during battle and thus, reduces Stamina. The S Tip has bad stability and balance due to D:D's height, which therefore does not have many uses, while F does not do better; its low grip, and small diameter makes it relatively useless. While Wide Ball of D:D looks like a completely different mold of WB, it performs relatively the same as its predecessor. Overall, D:D is a mediocre 4D Bottom due to its Tips; Sharp, Flat, and Wide Ball all being outclassed by Tips such as Bearing Drive, Right Rubber Flat, and Rubber Spike, respectively. However, D:D's performance can be boosted when paired with Variares' Wheel. In WB mode, it can hold its ground against Attack-Types while knocking the opposing beys out of the stadium, while in F mode, it increases Variares' attack ability and supporting its powerful smash attack. In S mode, it is useful facing Stamina Beys such as Burn Fireblaze since Variares can touch it and and knock it out with its attack power. Sadly, Phantom Orion B:D is rarely defeated by the S mode due to the bey not slamming into him. The attack is the strongest feature in D:D.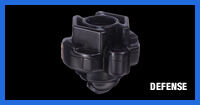 Other Versions
Variares D:D Mars Red Ver. – CoroCoro Magazine (Red)
Variares D:D Phantom Blue Ver. - CoroCoro Magazine (Blue)
Variares D:D - WBBA G4 Prize (Gun Metallic)
Gallery
VariAres D:D (regular)
VariAres WBBA Exclusive Colour (purple)
Other
Trivia
Variares D:D is the first 4D three-layer Bey to be produced, Face, Wheel, Track/Bottom.
Variares is the second Metal Saga Beyblade to be multidirectional. The first was Gravity Destroyer AD145WD.

Similarly, Variares D:D and Gravity Destroyer AD145WD both have a relation to Mars. Mars Ultor is Ares' Roman counterpart and Destroyer/Perseus is Mars' half brother in Roman mythology, justifying Madoka's belief

In the manga, Variares's beast is completely different from the anime.
In the anime, Variares D:D never used the Sharp tip on it's 4D Track, preferring to use Flat and Wide Ball instead.
It is the first Beyblade to have three tips in one. The second is Diablo Nemesis X:D.
In the anime, Variares stays in Attack Mode when it is not spinning. This doesn't occur in the real life, as it's only in Attack Mode when it is spinning.
References
Community content is available under
CC-BY-SA
unless otherwise noted.