We're Getting Mutants in the MCU - The Loop
Play Sound
This article is about the original 4D System release. For the Hasbro Hybrid Wheel System release, see Variares 145WB.
Variares D:D (ヴァリアレスD:D, Variaresu D:D) is a Defense Type Beyblade released as a Starter on July 16, 2011 by Takara Tomy in Japan.
Face Bolt - Variares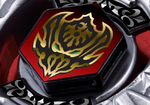 Main article: Face Bolt - Variares

The Face Bolt depicts "Ares". In Greek mythology, Ares was the god of war. The design features Ares's signature helmet, along with swords and a shield between them.
Fusion Wheel - Variares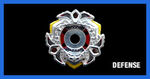 Main article: Fusion Wheel - Variares

Variares is a thick, three-winged, Dual Spin Fusion Wheel. Like L-Drago Destructor, another 4D Metal Wheel, Variares replaces the Energy Ring as well. Each of the three wings end in a sharp point that provides intense Smash Attack in either spin direction. In addition to this, along each wing there are six indents of varying sizes that provide Spike Attack which works in tandem with the sharp Smash Attack points on the ends of each wing. While Variares' attack power is high, it does suffer from huge amounts of recoil, due to its aggressive design.
Between each wing is a large gap. Fitted in between these gaps is a yellow PC Frame, that protrudes outwards in a triangular shape as far as the Metal Frame. Unlike other 4D Metal Wheels, Variares' PC Frame is assembled in conjunction with the Metal Frame.
When Variares is spinning at high spin speeds, the springs of the PC Frame protrusions retract towards the centre of Variares due to the centrifugal force. This exposes more metal, and therefore producing more Smash Attack. This is considered Variares' "Attack Mode". As Variares' spin velocity lowers, the three protrusions of the PC Frame extend out to its full length, allowing for more plastic contact in an attempt to reduce Recoil. This is considered "Defense Mode".
Variares was consistently a top tier Attack Type part due to its Smash Attack, and despite its Defense Type classification, found use in many Attack Type combinations. It was later outclassed by the release of another 4D Metal Wheel, Flash, and Synchrome System parts.
Performance Tip - Delta Drive
Main article: Performance Tip - Delta Drive

Delta Drive (D:D) is a round Performance Tip with a height comparable to 145. As a 4D Bottom, Delta Drive has a mode change gimmick. In the case of Delta Drive, it can manually change between three different Performance Tips which will change its performance: "Flat" for Attack, "Wide Ball" for Defense, and "Sharp" for Stamina. This grants Delta Drive versatility as the tip can be changed in between battles - however, this versatility is rendered useless due to the fact that all the available tips have been outclassed by later Performance Tips in their respective uses. Furthermore, Delta Drive is known to wobble during battle, reducing stability and stamina.
Other Versions
Recolors
Variares D:D - WBBA G4 Prize (Gun Metallic, purple PC Frame)
Variares D:D Mars Red Ver. – CoroCoro magazine exclusive (Red)
Variares D:D Phantom Blue Ver. - CoroCoro magazine exclusive (Blue)
Variants
Gallery
Toyline
Takara Tomy
Hasbro
Sonokong
Anime
Manga
Trivia
Variares rotating both ways possibly alludes to Mars' anomalous retrograde motion in Earth's sky for a few days before resuming its normal direction. This was observed since ancient times.
Variares D:D is the first 4D Beyblade to feature three parts (Face Bolt, Fusion Wheel, Performance Tip).
Variares is the second Metal Saga Beyblade to be Dual Spin. The first was Gravity Destroyer AD145WD.

Similarly, Variares D:D and Gravity Destroyer AD145WD both have a relation to Mars. Mars Ultor is Ares' Roman counterpart and Destroyer/Perseus is Mars' half brother in Roman mythology.
Moreover, in the anime, Variares is an ancient blade and believed to be the basis for Gravity Destroyer.

Variares' Beast in the manga is completely different from the anime design.
In the anime, Variares D:D never used the Spike tip of the Delta Drive, preferring to use the Flat and Wide Ball tips instead.
This is the first Beyblade in the Metal Saga to feature three tips. The second was Diablo Nemesis X:D.
In the anime, Variares stays in Attack Mode when it is not spinning. This does not occur in real life, as it is only in Attack Mode when it is spinning.
In the anime, Variares is also known as the 'Sword of the Gods'.