Virgo ED145ES (ビルゴED145ES, Birugo ED145ES) is a Stamina Type Beyblade that appears in the anime Beyblade: Metal Masters. It is owned by Chao Xin and is later replaced with Poison Virgo ED145ES.
Face Bolt - Virgo
The Face Bolt depicts "Virgo", the sixth astrological sign in the Zodiac and one of the 88 constellations in space. The word "Virgo" is written in stylized letters below a head representing Virgo. The initial Hasbro release of this Face Bolt fills in the letters, while later releases such as Night Virgo DF145BS replace the letters with a swoosh instead.
Wheel - Virgo
Virgo is one of the most smooth, circular Wheels currently available. Its circular shape is composed of two large, and long slopes which connect with each other to form the circle; however, despite their appearance, they don't offer any effective Upper Attack. These properties lend themselves well to Stamina, and despite its relatively average weight in comparison to other Wheels, Virgo had once found its place among the best Stamina-based Wheels available. However, it has since been outclassed greatly. There is no reason to use this Wheel competitively.
IMPORTANT: Mold Variations
One very important thing to note is the different mold variations that have been discovered for Virgo. Just looking at the Wheels themselves, it is impossible to tell what the actual difference in the mold is. However, through testing, it has been determined that there is balance issues that certain Virgo Wheels encounter. Some of them have been reported not having a solo spin time above three minutes while others are able to spin for over five minutes. The disparities between the Virgo Wheels cannot be ignored, so it is encouraged to test your Virgo Wheel by itself before using it.
Spin Track - Eternal Defense 145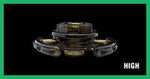 Eternal Defense 145 (ED145) features three "wings" that can freely spin around the Spin Track. The wings and overall design are similar to Wide Defense 145 (WD145). Because of the wings' free spinning nature, Eternal Defense 145 mainly finds use in Defense Type combinations. However, Eternal Defense 145 is not as effective as others such as Boost Disk 145 (BD145), or even Claw 145 (C145), as it is unable to absorb hits effectively. The wings lack the mechanism of a bearing, hence creating friction between the wings and body of the Spin Track, resulting in less hit absorption.
Performance Tip - Eternal Spike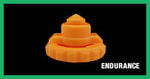 The Eternal Sharp tip features a free-spinning tip attached to a metal shaft which is held by the Perfomance Tip.
The part was one of the most heavily anticipated parts in the MFB lineup when first announced, but ES is actually a hugely disappointing part in terms of performance.
Firstly, ES lacks a metal bearing, which would significantly reduce the friction between the free-spinning tip and the rest of the Performance Tip. All of the best free-spinning tips, notably Bearing Core, had NSK Shield bearings which allowed unhindered spin.
Secondly, Beyblades using ES are easily destabilised due to its sharp tip. As all Sharp tips do, Eternal Sharp also has trouble regaining balance, hence making this a poor choice for Stamina. That said, ES still remains superior to BS and S as Stamina Bottoms.
Gallery
Anime
Trivia
References
Anime Exclusive Metal Saga Beyblades

Metal System Beyblades

Virgo ED145ES

Hybrid Wheel System Beyblades
Synchrome System Beyblades
Other Metal Saga Navboxes