Vulcan Cetus R145DS is a Defense-Type Beyblade. It was released in the Keel Crusher 2-Pack with a recoloured version of Ray Gil 100RSF.
Face Bolt: Cetus/Ketos
The face represents the whale (sea monster in the constellations), Cetus. It is one of the 88 constellations in space.
Energy Ring: Cetus/Ketos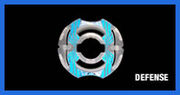 Cetus's Energy Ring is a dark pink in color. It has a wave pattern, along with two fish tails on each side, which looks like a whale diving into water. It is very balanced so it is good for Stamina/Defense/Balance type customizations.
Customizations
Hades Cetus(Ketos) BD145EWD (Stamina)
Evil (Killer) Cetus (Ketos) ED145HF (Balance)
Attack: 1 Defense: 3 Stamina: 2
Fusion Wheel: Vulcan
The Vulcan Metal Wheel has a total of two semi-circular prominences and two smaller wings painted with two red stripes that give breath to its design. Upon closer inspection, the two prominences have slight slopes that suggest the Wheel's capability of Upper Attack. Despite the fact that these sloped areas are major contact points, they do not provide Upper Attack; however, they do provide Smash Attack. Between the two prominenc
es are the two smaller wings, which are also major contact points.
Having a total of four major contact points suggests the Wheel possesses an incomparable amount of Smash Attack. This wheel is almost completely identical to the Bull Fusion Wheel, but is heavier and better for attacking. It is one of the best non-4D Attack wheels of all Beyblades.
Customizations
Attack: 4 Defense: 2 Stamina: 2
Spin Track: Rubber 145
Rubber 145 is the third heaviest of all Spin Tracks available. It is made of a very firm Rubber and is both a viable Track for Attack and Defense Customizations. Its main purpose is to absorb hits from low attackers without moving much, though it hardly happens with most beys. It is shaped similar to Wide Defense 145 but with the plastic "wings" made of rubber and are more evenly spread out. Due to the gap of the wings, this makes some recoil. The wide shape and the Track's small placement makes it scrape the Stadium floor and therefore lose Stamina. Despite its main use, Claw 145 outclasses it, but Rubber 145's heavy weight gives it advantage against tall Smash Attackers. R145 can be used for attack custom because its smash and increasing weight helps it attack better with the combo MF Gravity Perseus R145R2F/RF.
Attack: 0 - Defense: 3 - Stamina: 2
Performance Tip: Defense Sharp (DS)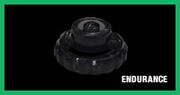 It is a hollowed out Defense tip with a spike inside of it. It is an amazing stamina tip if you like stamina tips with an "edge" because if tilted ever so slightly it will attack semi-furiously. Like most normal Defense tips, it keeps its balance.
Attack: 1 - Defense: 3 - Stamina: 4
Community content is available under
CC-BY-SA
unless otherwise noted.