This is a set that includes 3 tracks and 3 performance tips, like the Big Bang Pegasis set. It includes the extremums for stamina and attack and an extra track and performance tip.
Spin Tracks
Spin Track: 230
The Spin Track is what makes Byxis so exclusive. 230 is a remarkably tall Spin Track, and is a bright red color. It is quite thick, in that is lines down, in order to protect itself from Beys designed to hit the Spin Track. Due to this, it provides great Defense from low attacking Beys, for example, Mercury Anubis as it tips over and hits small attackers. It is also currently the highest Track. Because its the highest Track, it has made a large impact on the metagame. Before Byxis' release, small and low Beyblades dominated competitive play, but the 230 Spin Track is not greatly affected by shorter Beyblades at all. So, for example, a bey like Mercury Anubis with an 85 spin track would hardly affect Flame Byxis.
Higher Tracks such as 130 or higher are recommended for battle against 230. 230's only downfall, is being attacked by Beys with high tracks that spin to the left, such as L-Drago. Triple Height 170 outclasses 230 due to it's ability to change height from 170, to 195, and to 220. Unless you want to make it smash from above. The sharp series of Performance Tips should never be used with 230 due to height and unbalance. It is a great spin track nevertheless, and very useful for Defense. Contrary to the looks of this Beyblade, it will not get "thrown" around the stadium when hit from underneath, instead, if the attack is successful, Byxis will destabilize itself and begin to tip. This track was also released in a few colors, The original, pink, and then red. Duo Uranus has a gold 230, Flash Sagittario has a clear-tan 230. A black version was released in the Phantom Orion extra bottom(s) set.
Use in Defense customization: Even though TH170 outclasses 230 at Defense and Stamina Terms 230 can still be used in a Defense customization MF-H Basalt Bull/Kerbecs/Aquario 230CS
Attack: 0 - Defense: 2 - Stamina: 2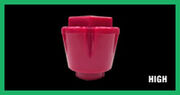 Spin Track: 85
85 is currently, the lowest Spin Track and thus, the best Spin Track for low attackers due to its Attack and Stamina capabilities. It is a top-tier Spin Track. However, its low height causes it to scrape the Stadium floor multiple times when it starts to lose Stamina. Due to this, some Bladers prefer to use 90 over 85. However, if placed with taller Performance Tips, like HF/S or RF, it can avoid floor scrapes as much as possible. Although 85 can be countered with Spin Tracks like TH170 and 230, it still remains as an excellent Spin Track for Attack-Type customizations.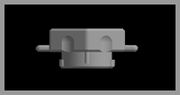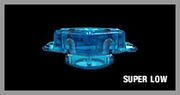 Spin Track: Change Height 120 (CH120)
Weight: 2.7 grams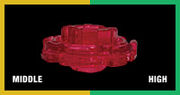 CH120 is unique as it features a height-changing gimmick. The user is allowed a choice of using 120 or 145 as the Track's height. This is done by rotating the bottom portion of the Track and pulling/pushing the central part out/in, and then rotating the bottom portion back to lock the height. Importantly, this can be done between each round of a match, as it does not involve any part-swapping. The advantages of this Track are plentiful. Its most obvious benefit is allowing the user to change the height of their Beyblade between rounds; this means that the user can adapt their strategy to counter the opponents during a match. CH120 is currently the only Track featuring a 120 height. This height is useful for many Attack types. T125 or D125 can be used as an alternative if you don't have CH120, but they're not as good.
Tricks with the Spin Track
When you change height, at one point you will get medium height. Keep it there, and then screw in the Face Bolt as much as you can without breaking it. The height should tighten and stay as it was. This works only with CH120 and TH170.
Performance Tips
Performance Tip: Wide Defense
Wide Defense, as its name implies, is the widest of the "Defense" series of Performance Tips (D, SD, WD, EWD and PD). It's width provides many advantages, but also some disadvantages too. Wide Defense has arguably been called the "best Stamina Performance Tip available if used in the right combination". Unlike many other tips, Wide Defense has a lot of Stamina. Aside from all of this, Wide Defense can also have good balance. This tip can be sometimes used to beat Attack types by using a weak shot. It is a bright red in color.
Attack: 0 - Defense: 5 - Stamina: 2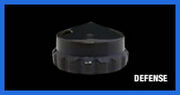 Performance Tip: Xtreme Flat (XF)
Xtreme Flat is the second widest Flat Performance Tip, currently available (first being GF). Xtreme Flat has fast and aggressive movement, equal to that of Right Rubber Flat. Although having more Stamina than Right Rubber Flat due to being plastic, it is not as fast as Right Rubber Flat, which is made of rubber, which gives it more friction with the Stadium floor. Nevertheless, Xtreme Flat is a great Performance Tip for Attack Type Beyblades, and is top-tier at that.
Attack: 6 - Defense: 1 - Stamina: 0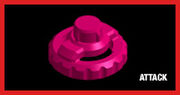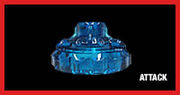 Performance Tip: Semi-Flat
This tip is Semi-Flat. It provides a semi-aggressive movement pattern.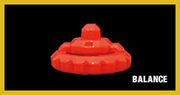 SF Tip exhibits increased Defense over the Sharp and Defense Bottoms due to the increased friction. The downside is that Stamina is decreased and causes the Beyblade to move around more, exposing it to an Attack type. The trade-off in stamina for stability makes it inferior to SD and WD in terms of Stamina. Semi-Flat tip is usually used in Balance type Beyblades as it combines equal aspects of Attack, Defense and Stamina.
Attack: 3 - Defense: 2 - Stamina: 2
Community content is available under
CC-BY-SA
unless otherwise noted.