This article contains information about Unreleased material.
As such, the content of the article may change dramatically as more information becomes available. Please do not add speculation to this article and try to provide a source for any information you add.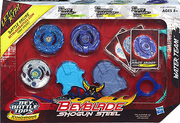 The Water Team Set is an unreleased Team Pack to be released under Beyblade: Shogun Steel. It should find release June 2013 internationally.[1]
Contents
Gallery
Official description
Customize the 3 Beyblade: Shogun Steel battle tops in the Water Team Set for maximum tactical advantage! Engineer the perfect custom top to defeat your opponent by switching the parts of your Pirate Orochi, Guardian Leviathan and Pirate Kraken tops, then use your Ripcord Launchers to send your warrior tops into the fray. For an even more powerful top, combine 2 Warrior Wheels from different tops for one heavier top that has double Metal power! Beyblade products are produced by Hasbro under license from d-rights, Inc. and manufactured under license from Tomy Company Ltd.
Dominate the arena with the Water Team set of spinning Shogun Steel battle tops
Pirate Orochi stamina top has a Defense Performance Tip piece that can withstand attacks
Guardian Leviathan defense top has a Spike Ball Performance Tip piece that helps to keep the top steady
Pirate Kraken defense top has a Jog Spike Ball Performance Tip with a tip that grips surfaces for more stability and endurance
Its Armor Spin Track piece helps provide extra defense power
References
External links
Community content is available under
CC-BY-SA
unless otherwise noted.