Pegasis (ペガシス, Pegashisu) is a Wheel released by Takara Tomy as part of the Metal System. It debuted in Japan with the release of the BB-01 Starter Pegasis 105F on August 9, 2008.
Description
The Pegasis Wheel consists of a three-winged design. Each of the three sections has a flat front that connects the protrusions. The segments slightly curve upwards in the shape of wings, with two pointed ridges near the end. Hoove-like parts can also be observed in the design.
Design Change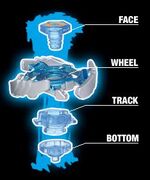 The original design of Pegasis (pictured on the right) was changed to the current design sometime before the launch of Metal Fight Beyblade. No official statement was made, but the community has speculated that it was due to probable breakage problems with each of the three highly exposed "wings" on the Wheel.
Overall
The Pegasis Wheel is one of the best Smash Attack Wheels from the Metal System series. Surprisingly however, its potential was not realized by the community until much later. After the Metal System had already concluded, MF Pegasis 145RF was eventually popularized due to its high success rate against Wide Ball (WB) Defense Type combos, which were top-tier at the time. In combination with a Metal Face Bolt and RF, the Recoil Pegasis experienced was minimized, which allowed for its powerful Smash Attack to KO opponents with ease, especially Stamina types.
The Pegasis Wheel fell into disuse when rubber-based Defense became the norm with Performance Tips such as Rubber Spike (RS); Pegasis was unable to contend with the strong grip those Performance Tips provided. Furthermore, heavier options were made available with the release of the 4D and Synchrome Systems.
As such, Pegasis is recommended for collection purposes only.
Pegasis is a must have if a Blader plans to compete in the WBO's Limited Format, where many of the parts that marginalize it are restricted. It is a top-tier Wheel in the format, and essential for Attack Combinations.
As such, Pegasis is a must have for competitive bladers.
Products
Takara Tomy
Gallery
Trivia
References