Doctor Strange in The Multiverse o Madness - The Loop
Play Sound
Quetzalcoatl (ケツァルコアトル, Ketsarukoatoru) is a Wheel released by Takara Tomy as part of the Metal System. It debuted in Japan with the release of Quetzalcoatl 90WF in 2008.
Description
Quetzalcoatl consists of two large wings which have a long slope upwards towards the top and then small curved slope downwards at the wings peak, along with two smaller protrusions on a slight incline in the gap between the wings. At first glance, the wings of Quetzalcoatl would appear to display both Upper Attack and also some slight Force Smash. Upon closer examination, however, it becomes clear that it displays neither of these traits in battle. In addition, the two protrusions between the wings do not protrude far enough to come into regular contact, and the Wheel itself is quite rounded, leaving it with only two major contact points and relatively moderate Smash Attack, when compared to Wheels such as Vulcan and Lightning that have since been released.
Quetzalcoatl was once considered the best Attack Wheel available, but has since been outclassed by Wheels such as the ones listed above.
Cancer/Quetzalcoatl Wheel Name Switch by TAKARA-TOMY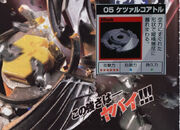 Before the launch of Metal Fight Beyblade, early promo images of what was supposedly the initial lineup were released. They displayed renders for Pegasis, Cheiron (renamed Sagittario), Leo (renamed Leone), Bull, Cancer and Quetzalcoatl. However, when MFB was launched in August of 2008, the Beyblade labeled as "Cancer" in the promo images was released as "Quetzalcoatl", the Wheel described above. Furthermore, when inspecting the design of "Quetzalcoatl" itself, it becomes obvious that the design is derived from the appearance of a crabs claws. Even the Cancer Face itself features claws that are similar in design to the "wings" of Quetzalcoatl.
There has been speculation as to why Takara Tomy chose to release Cancer as Quetzalcoatl, however one of the most likely reasons was that the original Wheel labeled as Quetzalcoatl was visibly quite brittle; a fact that is further emphasized by TAKARA-TOMY's subsequent martyrization of the Wheel in various promotional images that followed, as is pictured to the right. As can be observed in those images, the slopes on the Wheel are clearly "feathery" as the deity Quetzalcoatl is described to be, and below the slopes, there are "scales", which relate to the fact that the deity is a "feathered serpent".
The original Quetzalcoatl Wheel has never been released in any form.
Overall
As such, Quetzalcoatl is recommended for collection purposes only.
Products
Takara Tomy
Gallery
Takara Tomy
Trivia
References