Wind Leone D125HF is an Attack-type Beyblade only found in Random Booster Light Vol. 1.
Face Bolt: Leone I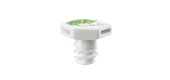 The Face depicts Leo, the fifth astrological sign in the zodiac. The Metal Fusion Leone face (no sticker) is light and not outlined.
Energy Ring: Leone I
The regular release of Leone is a transparent, turquoise piece(transparent green and yellow in America) rather than a green shade like in the anime. Leone is very circular with small ridge details. It can provide nice weight and has decent defensive capabilities. Overall, it is a basic ring and used commonly in generic beys in the anime.
Customizations
Thermal/Flame Leone T125/125 WD/EWD/WB (Defense)
Light Wheel: Wind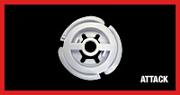 Wind is the Light Wheel version of Storm, being made out of plastic instead of metal. Because of this, the performance of the wheel is greatly reduced due to the lack of weight. This wheel should never be used in competitive battles, but it is a good wheel to add to a collection. This beyblade is much more lighter than a beyblade with a metal wheel due to the Light Wheel, making it's performance smaller.
Spin Track: D125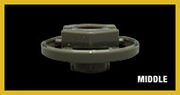 D125 features 1 circular small shield-like circle that goes out of the Track body. The ring is meant to protect from low attackers but is no use due to no attackers being low enough to reach under the 125 Spin Track. It does, however, add to the overall weight and therefore has uses. It is viable for use in Stamina and Attack customizations. It is white on this beyblade.
Customisations
MF Gravity Destroyer(Perseus) D125RF (Attack)
MF-H Earth Bull/Aquario D125RS/RSF/CS (Defense)
Burn/Thermal Bull/Libra/Leone D125WD/SD/D (Stamina)
Attack: 0 - Defense: 2 - Stamina: 1
Performance Tip: Hole Flat (HF)
HF has a very similar movement speed to that of F, with the main difference being a slight Stamina improvement due to the hole in the middle of the tip. But with this comes the detriment of even less grip to the stadium floor than F, and also increased fragility. This part, therefore, is a negligible tip.
However, an MF will be much better for stamina, slightly better attack. It also seems to have slightly better stamina than LF. If used on shallow water, may shoot water on the opposing beys.
Attack: 4 - Defense: 0 - Stamina: 3 
Trivia
Community content is available under
CC-BY-SA
unless otherwise noted.