Wind Wolf H145D is a Defense-type Beyblade that was released in Random Booster Light Vol. 3.
Face Bolt: Wolf
Wolf resembles one of the 88 constellations, Lupus, the wolf. It is hot pink in color.
Energy Ring: Wolf
The edges of the Clear Wheel consists of 4 wolfs, one in each quarter of the energy ring, representing the body form of a wolf. This increases the stamina of the bey. It also makes the bey more stable. This energy ring is similar to the Pegasus ring in design but outclasses it in stamina, defense, and balance. Hasbro has recolored Wolf three times. Wolf is to be used if Bull, Aquario and Kerbecs is not available in Defense customizations.Wolf has equal levels of defense,stamina, and attack, however it is not close to being the ultimate balance type bey, as it is in Beyblade: Metal Fusion. In the anime, it got cracked in half by L-Drago.
Fusion Wheel: Wind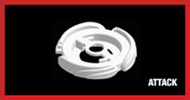 Wind is the Light Wheel version of Storm, being made out of plastic instead of metal. Because of this, the performance of the wheel is greatly reduced due to the lack of weight. This wheel should never be used in competitive battles, but it is a good wheel to add to a collection. There are only 4 Light Wheels, "Wind", "Heat", "Clay", and "Mad".
Spin Track: H145 (Horn 145)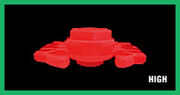 Weight: 4 grams
Height: 14.5 millimeters
H145 has two wings with two various protrusions, representing the horns of a Bull surrounding its perimeter. These four points are meant to provide Smash Attack, and they do succeed on some levels. However, because the horns are so pronounced, and because the gaps between the wings are so wide, significant recoil is produced, especially when used in combination with small Metal Wheels that allow the Horns to extend well past the perimeter of the Wheel. However, H145 may scrape the arena like a lot of other spintracks do. While H145 may not be an entirely noteworthy part as far as competitive customizations go, it is still quite a fun part to play with. You can score many impressive KO's with the recoil it produces in the first few seconds of a battle, but at the same time, this recoil does work against you in some battles, causing a self-KO or if not, a severe loss of Stamina.
Performance Tip: D (Defense)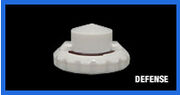 This is a Defense Performance Tip/Bottom. When hit by an opponent, a Beyblade with this Performance Tip/Bottom will have lessened recoil and will recover from attacks more efficiently than a Sharp Tip. However, while recovering, the Defense Performance Tip/Bottom will cause the Beyblade to lose some Stamina, caused by the added friction. WD has better stamina than D, the friction that added when it brakes make it has little stamina than WD.
Gallery
Community content is available under
CC-BY-SA
unless otherwise noted.