Wing Pegasis S130RB (ウイングペガシスS130RB, Uingu Pegashisu S130RB) is an Attack Type Beyblade that was released in Japan at the World Hobby Fair 2012 on January 15, 2012 in Osaka, Japan.
Face Bolt - Official World 2012 WBBA
The Official World 2012 WBBA Face Bolt was released to commemorate the World Hobby Fair 2012 event. The words "World 2012" are featured, along with "Official" and "WBBA". In the background is the globe, representing the world (Earth).
Energy Ring - Pegasis III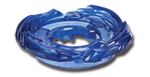 Pegasus III features dual crescent-shaped blades designed in the motif of the mythical Pegasus, complete with wings. Like other 4D Clear Wheels, the Pegasus III Energy Ring included in the Takara Tomy release contained trace amounts of iron powder, which was advertised by Takara Tomy to increase the weight of the Energy Ring. The Beyblade Legends Hasbro release also contained this iron powder.
Fusion Wheel - Wing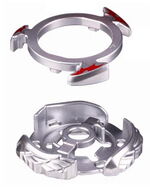 Wing is a 4D Fusion Wheel that consists of two parts: the Core and Metal Frame. The Metal Frame of Wing resembles that of Blitz, with both being circular Metal Frames with triangular protrusions. Wing's three protrusions fill in the gaps of the Core's wings; the Metal Frame can be fitted in different ways to switch between modes. Wing's Metal Frame features an arrow that helps determine which mode Wing is in.
Spin Track - Shield 130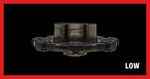 Shield 130 (S130) is a Spin Track with a horizontal disk attached to its center. This disk consists of eight "arms" linked by plastic, forming an imperfect circle. Shield 130 is lighter than Spin Tracks like Boost Disk 145 and Gravity Ball 145, and thus are outclassed for Defense combinations. However, this Spin Track has found use in Attack combinations where it can add weight without getting in the way of contact points. Its medium height also allows it to score hits on higher Spin Tracks of opposing Beys.
Performance Tip - Rubber Ball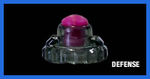 Rubber Ball (RB), as its name suggests, is a Ball Performance Tip, made of rubber. Interesting about it though, is that it is very wide; the widest out of any Rubber-based Performance Tip to date.
Performance-wise, Rubber Ball accels in Defense; comparable to that of Rubber Spike (RS) and Rubber Defense Flat (RDF). While Rubber Ball contains a somewhat aggressive movement, it still maintains a Ball-based movement as well. Its rubber allows it to have better grip on the Stadium floor, and thus take powerful hits from Attack Types. Rubber Ball will move mostly around the middle on the stadium.
While obtaining great results for Defense, Rubber Ball has failed on certain combos, due to its large surface area, which while creating more friction, reduces Stamina and thus, makes it easier to KO than that of Rubber Spike. It is also not suited for Attack Type combos and is terrible in Stamina, like other rubber Performance Tips.
Gallery
Trivia
This is the second Bey to to have the S130RB combo, the first being Jade Jupiter S130RB.
Despite the Attack Type classification, this Bey performs more closely to a Defense Type.