This article is about the original 4D System release. For the Hasbro Hybrid Wheel System release, see Wing Pegasus 90WF (Hasbro).
Wing Pegasus 90WF (ウイングペガシス90WF, Uingu Pegashisu Kyūmaru Daburyū Efu) is an Attack Type Beyblade that was released in Japan in the Beyblade Ultimate DX Set on November 19, 2011. It was later released worldwide by Hasbro bundled with the Beyblade: Evolution Nintendo 3DS video game as part of the Hyperblades line.
This Beyblade was featured in the eleventh volume of the Metal Fight Beyblade manga, in the seventh special chapter entitled "Miraculous Tag Team: Ginga & Ryuga!!". It is a manga-only evolution of Cosmic Pegasus F:D, where it is temporarily granted this upgrade while inside a virtual reality training simulator.
Face Bolt - Pegasus III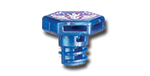 Main article: Face Bolt - Pegasus III

The Pegasus III Face Bolt depicts "Pegasus", one of the 88 constellations in space. In Greek mythology Pegasus was a white, winged, divine horse that was turned into a constellation by the Greek god, Zeus. Unlike the two previous Pegasus Face Bolts, this features a more stylized design. The "hair" of Pegasus is now longer and resembles a lightning bolt. The "P" and "S" letters now do not resemble letters but instead, wing designs are featured. Lightning designs now appear above them and Pegasus' eyes are now red with a blue outline.
Energy Ring - Pegasus III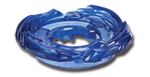 Main article: Energy Ring - Pegasus III

Pegasus III features dual crescent-shaped blades designed in the motif of the mythical Pegasus, complete with wings. Like other 4D Clear Wheels, the Pegasus III Energy Ring included in the Takara Tomy release contained trace amounts of iron powder, which was advertised by Takara Tomy to increase the weight of the Energy Ring. The Beyblade Legends Hasbro release also contained this iron powder.
Fusion Wheel - Wing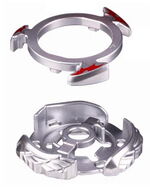 Main article: Fusion Wheel - Wing

Wing is a 4D Fusion Wheel that consists of two parts: the Core and Metal Frame. The Metal Frame of Wing resembles that of Blitz, with both being circular Metal Frames with triangular protrusions. Wing's three protrusions fill in the gaps of the Core's wings; the Metal Frame can be fitted in different ways to switch between modes. Wing's Metal Frame features an arrow that helps determine which mode Wing is in.
Spin Track - 90
Main article: Spin Track - 90

90 was the lowest Spin Track available until the release of 85. Its low height is good for both low height Attack customizations and low height Stamina customizations, but is outclassed slightly in both regards by the aforementioned 85.
Performance Tip - Wide Flat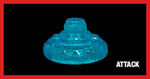 Main article: Performance Tip - Wide Flat

Wide Flat (WF) is a wider variant of the Flat Performance Tip, and is twice the size of Flat. While Wide Flat is much faster due to the increased surface area, it has very poor grip and thus struggles to hold a flower-like pattern. It has since been outclassed in terms of width by Extreme Flat (XF).
Other Versions
Variants
Gallery
Toyline
Takara Tomy
Hasbro
Trivia
The 90WF combo was first used with Quetzalcoatl 90WF. It would later be used by Bakushin Susanow 90WF, making Wing Pegasus the third Bey to have this combo.
Unlike most Pegasus Beys, Wing Pegasus uses a red Energy Ring while other Pegasus Beys use blue ones. This is with the exceptions of Pegasis 105F, which does not use an Energy Ring, and Cyber Pegasus 100HF, which is a variation of Storm Pegasus 105RF.
Wing was the second Attack Type Fusion Wheel to have great Defense potential, with the first being Bakushin.
The Hasbro release with the Beyblade: Evolution video game comes with a purple assembly tool.

It is also the only Metal Fury toyline release to include stickers.