Jurassic World: Dominion Dominates Fandom Wikis - The Loop
Play Sound
Wolf 125SF is a Balance Type Beyblade.
Face Bolt - Wolf
Main article: Face Bolt - Wolf

The Face Bolt depicts "Lupus", one of the 88 constellations in space. The design features a wolf with an open mouth (presumably howling), and the word "WOLF" inside its mouth. This word is omitted in some Hasbro releases, such as Burn Wolf SW145WD and Earth Wolf 105WD.
Wheel - Wolf
Main article: Wheel - Wolf

The Wolf Wheel has two sides which consist of four close spikes that are meant for Smash Attack. On each side, the words "Wolf Wheel" are engraved. However, there are many problems with these metal protrusions that negate the use of Wolf; the largest one being that the spikes face counter-clockwise, which causes a massive decrease in stamina when the other, right-spin Beyblade hits it. Because of the counter-clockwise facing spikes, its potential to Smash Attack is also hindered because of its own spin direction, which causes the flatter side of the spikes hit to the opposing top.
Spin Track: 125
The 125 Track is a midway between the 105 and the 145 Tracks. Utilized in mid-height Stamina combos, it is more difficult to destabilize compared to 145 height Stamina combos. It has declined in popularity as the choice mid-height Track due to the release of gimmicked tracks of the same height, such as T125 and 125.
Performance Tip: Semi-Flat (SF)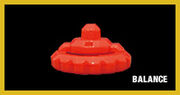 SF is wider than Sharp but not as wide as any Flat Bottom. It produces a movement pattern that, while it is aggressive, is much slower than any Flat Bottom. The increased friction with the stadium floor due to the wider tip both increases its Defense and Stamina in comparison to a bottom similar to S or ES. However, it is in absolutely no competition with bottoms similar to WD for Stamina or RS for Defense. Semi-Flat is meant to be used in Balance type Beyblades, as it combines aspects of Attack, Defense and Stamina. B
Gallery
Toyline
Takara Tomy
Trivia
References