Wolf D125B (ヴォルフ D125B, Uorufu D125B) is a Balance-Type Beyblade. Its evolution is Dark Wolf DF145FS and is owned by Doji. It was only released in Japan and other countries in East Asia such as South Korea.
Face Bolt: Wolf
Main article: Face Bolt - Wolf
Wheel: Wolf
Main article: Wheel - Wolf

The Wolf Wheel has two sides which consist of four close spikes that are meant for Smash Attack. On each side, the words "Wolf Wheel" are engraved. However, there are many problems with these metal protrusions that negate the use of Wolf; the largest one being that the spikes face counter-clockwise, which causes a massive decrease in stamina when the other, right-spin Beyblade hits it. Because of the counter-clockwise facing spikes, its potential to Smash Attack is also hindered because of its own spin direction, which causes the flatter side of the spikes hit to the opposing top.
It is generally agreed that Wolf would have held potential as an Attack Wheel if it had been left-spin-compatible, however, it remains that the spikes are so closely packed and not heavy enough that it could have failed in left-spin even at the beginning of the series. Because of this, Wolf has never had any use for Attack competitively, and Metal Wheels such as Blitz and VariAres should be used instead. Wolf also serves no purpose in Defense and Stamina, as the multiple contact points cause too much Recoil.
Spin Track: Defense 125
Main article: Spin Track - D125
| | | | | | | | |
| --- | --- | --- | --- | --- | --- | --- | --- |
| Weight: | 1.7 gram | Full Width: | 26.5 mm | Core Width: | 11 mm | Full Height: | 12.50 mm |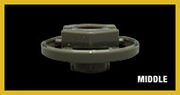 Defense 125 is similar to 125 and T125. Apart from the shifts in weight distribution and air resistance, there are few notable differences. The ring serves no significant defensive purposes. D125 is an outclassed track for Stamina and Defense customizations. It can be used in some Attack customizations.
Use In Attack combination
D125 has found use in attack combinations MSF-H Balro Balro D125 RF/R2F/LRF is one.
Use In Balance combination
D125 can be used in the following balance combination Genbull Dragoon D125 GCF
Performance Tip: Ball
Main article: Performance Tip - B
| | | | | | | | |
| --- | --- | --- | --- | --- | --- | --- | --- |
| Full Width: | 15.82 mm | Tip Width: | 5.88 mm | Full Height: | 8.98 mm | Tip Height: | 5.97 mm |
Other Versions
Wolf 105F - BB-12 Booster Wolf 105F (Blue)
Wolf D125B - BB-20 BeyBattle Try Set (Red)
Wolf 125SF - BB-21 Attack & Balance Reshuffle Set (Blue)
Gallery
Overall
Wolf D125B is composed of predominately outclassed parts. D125 has found use, but does not make up for the lack of competitive parts. There is little to no reason to own the Bey aside from collection purposes.
===
=
Community content is available under
CC-BY-SA
unless otherwise noted.